This one is pretty good. The Irish Cream flavor is fairly strong, which in my opinion is a good thing. Also, I used salted butter. If you use unsalted butter, you may want to add a tiny pinch of salt just to keep the flavor balanced. I couldn't tell you how much or if it is actually necessary, but there's a chance it might taste a little flat with unsalted butter and no added salt.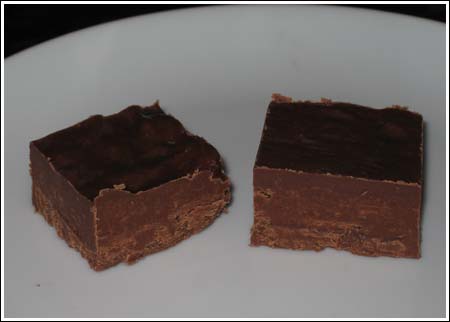 Bailey's Fudge
Base:
1 1/2 cups semi-sweet chocolate chips
1/2 cup white chips
2 tablespoons butter
1 1/2 cups confectioners sugar
1/2 cup Bailey's Irish Cream
Topping:
1/2 cup semi-sweet chocolate chips
1/4 cup white chips
1 tablespoon butter, softened
2 tablespoons Bailey's Irish Cream
Line an 8 inch square pan with parchment or foil. If using foil, grease the foil with butter
Make the base first. In the microwave, melt the 1 1/2 cups semisweet chocolate chips, 1/2 cup white chocolate chips and 2 tablespoons butter. I do this by microwaving on high and stopping to stir every 30 seconds.
Stir the confectioner's sugar and Irish cream into the melted chocolate. Pour mixture into the prepared pan and lay a sheet of plastic wrap over top; press and smooth top down.
In the microwave melt remaining semi-sweet and white chocolates. Stir in the softened butter and Irish cream; stir until smooth, then spread over base. Place in refrigerator for a few hours to chill. When firm, grasp parchment or foil and lift from pan. Score into squares. If using foil, make sure you get all the foil off.