Five Wild and Crazy Cookies from a kids' cookie baking contest.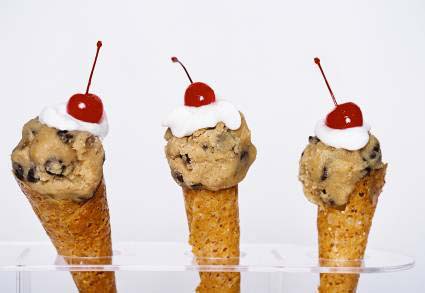 Chocolate Chip Cookie Dough "Ice Cream Cones"by Heather & Alexa Cohen from Owings Mills, MD
Ingredients
For the "Ice Cream Cones"
1/4 cup (1/2 stick) unsalted butter
1/4 cup granulated sugar
1/4 cup plus 2 tablespoons light corn syrup
1/2 cup finely chopped walnuts (preferably toasted; you can substitute pecans or almonds)
1/4 cup all-purpose flour
Pinch salt
For the "Cookie Dough"
1 1/4 cups all-purpose flour
1/2 teaspoon salt
1/8 teaspoon cinnamon
2 tablespoons malted milk powder (optional)
1/2 cup (1 stick) unsalted butter, room temperature
2/3 cup granulated sugar
3/4 cup dark brown sugar, packed
1 teaspoon vanilla extract
3 tablespoons milk
1 cup semisweet chocolate chips
Whipped cream
Maraschino cherries (optional)
Directions
1. Preheat oven to 350°.
2. To make "ice cream cones", in a small saucepan, combine butter, sugar, and corn syrup. Bring to a boil; remove from heat. Add walnuts, flour, and salt. Stir until well-combined. Let sit for 10 minutes.
3. Depending on the size of your sheet pan, place 4-6 rounded teaspoons of dough on an ungreased
AirBake sheet, at least 5 inches apart (the dough spreads a great deal).
4. Bake each batch for about 10 minutes, until most of the bubbling stops and the cookies turn a walnut brown. Let the cookies rest on the sheet pan for about 1 to 2 minutes, until they are easily removed from the baking sheet with a spatula. Allow to cool slightly longer if cookies wrinkle when a spatula is slid under the cookie. If too stiff to remove, put back into the oven for a couple of minutes to soften up.
5. With the small spatula, wrap the cookie around a cylindrical object such as a funnel or water cooler paper cup. Or roll a 6″x10″ piece of parchment paper into a cone and cut it into a 5″ cone and wrap the cookie around it to resemble a cone. Repeat with the rest of the cookies. Again, if they become too stiff to remove, put back into the oven for a couple of minutes to soften up. The ice cream cones can be made ahead and stored in an air tight container until ready to top with the raw cookie dough.
6. To make "cookie dough", in a large bowl combine flour, salt, cinnamon, and malted milk powder (optional).
7. In another large mixing bowl, cream together butter, sugar, brown sugar, vanilla extract, and milk. Add the dry mixture to the wet mixture and mix well. Stir in chocolate chips and mix until well blended.
Refrigerate for 1 hour.
8. To make the finished "ice cream cones", spoon a rounded tablespoon of the "cookie dough" into the "ice cream cones." Top with whipped cream and a cherry (or anything else you or your child's heart desires, like hot fudge, caramel, sprinkles, nuts).
Makes about 36 cookies.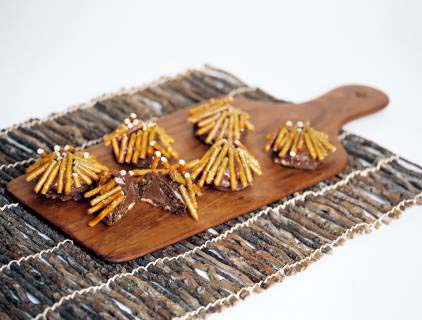 Extremely Chocolatey Beaver Huts
by Jessie Grearson & Eleanor Sapat from Falmouth, ME
Ingredients
1/2 cup butter, softened
3/4 cup white sugar
1 egg
1 1/2 tsp. vanilla extract
1 cup all-purpose flour
1/3 cup cocoa powder
1/3 cup Quaker instant oats
1 Tbsp. cream or half and half
½ tsp. baking soda
¼ tsp. salt
¼ cup white chocolate chips
¾ cup dark chocolate chips
¼ cup chopped walnuts
One Hershey's kiss
5-6 Tbsp. Nutella
1/6 bag thin stick pretzels, some broken, for decorating huts
Directions
1. Preheat oven to 350°.
2. In large bowl beat together butter, sugar, eggs and vanilla until light and fluffy.
3. In another bowl whisk together flour, cocoa, oats, baking soda and salt; stir into the butter mixture and add cream slowly, just enough to form a stiff, but well-blended dough.
4. Fold in chocolate chips and chopped walnuts (we think of these as rocks and stones).
5. Roll by large tablespoons into rough balls, about the size of a ping-pong ball (these are your mud huts) then hide a chocolate kiss "beaver" inside one cookie.
6. Bake cookies for 10-12 minutes on an ungreased AirBake cookie sheet in the preheated oven until set (watch carefully).
7. After cookies cool, spread a small amount of Nutella as muddy layer over each hut and have fun adding pretzel "sticks" to the outside of each beaver hut.
Makes 20-24 cookies.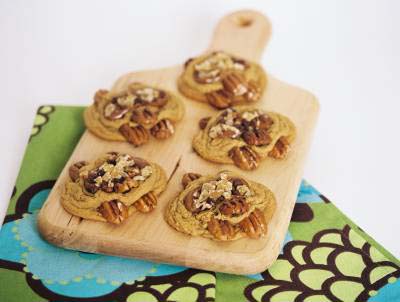 Ginger Snappin' Turtle Cookies
by Leah & Dawsyn Lyon from Ada, OK
Ingredients
3/4 cup unsalted butter
1 cup packed brown sugar
1/4 cup molasses
1 egg
2-1/4 cups all-purpose flour
2 tsp. ground ginger
2 tsp. baking soda
1/2 tsp. salt
1/3 cup finely chopped crystallized ginger, plus more coarsely chopped for tops of cookies
2 cups raw pecan halves
1/2 cup prepared caramel spread or dip, room temperature
3/4 cup chopped pecans
1/2 – 2/3 cup semi-sweet chocolate mini-morsels
Directions
1. Preheat oven to 350°
2. In a bowl, cream the butter and brown sugar until fluffy. Add molasses and eggs and mix well.
3. In another bowl, combine flour, ground ginger, baking soda and salt and add to butter mixture. Stir in 1/3 cup crystallized ginger. Drop by teaspoonfuls onto a large Airbake baking sheet, about 2-1/2 inches apart.
4. Press 4 pecan halves into the sides of each raw cookie to look like turtle legs. Add one more sticking out of the top to look like the turtle head. Bake for 10 minutes or until the cookies begin to brown around the edges.
5. Remove from the oven and drop/spread 1 tsp. of caramel spread in the center of cookie. Sprinkle with chopped pecans, then mini chocolate morsels.
6. Top with a last sprinkle of chopped crystallized ginger, and return to oven for 2-3 minutes. Cool before removing from pan.
Makes 24 cookies.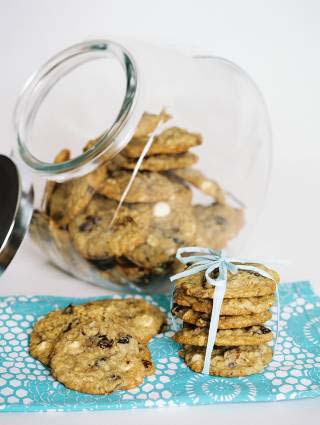 Not Your Mother's Oatmeal Cookies
by Shannon & Jennifer Stovsky from Beachwood, OH
Ingredients
1 cup unsalted butter, softened
1/2 cup granulated sugar
1 cup firmly packed brown sugar
2 large eggs
1/2 tsp. pure vanilla extract
1-1/2 cups all purpose flour
2 cups quick cooking oats
1 tsp. baking soda
1/2 tsp. salt
1 cup dried cherries (if large, snip in half)
1 cup white chocolate chips
1 cup chopped pecans, lightly toasted and cooled
1 cup English toffee bits (i.e. Heath)
Directions
1. Heat oven to 350°.
2. Line two large AirBake baking sheets with parchment paper.
3. In a bowl, cream butter and sugars until light and fluffy. Add eggs and vanilla to butter mixture and mix just until blended.
4. In another bowl, combine flour, oats, baking soda and salt and blend with a wire whisk.
5. Add flour mixture to butter mixture and mix until just combined.
6. Add the remaining ingredients and stir with a wooden spoon (dough may be a little stiff).
7. Place dough on baking sheets using miniature ice cream scoop or 2 teaspoons, leaving 2 inches between each cookie. Bake for 10-13 minutes or until slightly browned.
8. Allow cookies to cool on pan for 2-3 minutes and then remove to wire rack until completely cool.
Makes 24 cookies.
Zebra-Pop Cookies
by Rebecca & Lindsey Ludens from Kalamazoo, MI
Ingredients
2 ¼ cups all purpose flour
1 tsp. baking soda
½ tsp. salt
½ cup butter, softened
¾ cup sugar
¾ cup brown sugar
1 tsp. vanilla
2 eggs
2 cups milk chocolate chips
2 cups semi-sweet chocolate chips
7 oz. (1/2 bag) white chocolate chips
30 6-inch long lollipop sticks (can be found in the candy decorating section of any craft
store)
Directions
1. Preheat over to 350°.
2. In a medium sized mixing bowl, mix together flour, baking soda and salt and set aside.
3. In a large mixing bowl, cream together butter, sugar, and brown sugar until completed blended.
4. Add vanilla and eggs to the sugar mixture and add the flour mixture until all ingredients are well integrated.
5. Place a sheet of parchment paper on an AirBake cookie sheet. Use a 2-tablespoon cookie scoop to drop perfectly rounded half-circles of dough onto the paper. Before baking carefully insert a lollipop stick into each drop of dough. Twist and push the stick gently into the dough until you can feel it just about to come through on the opposite side.
6. Bake 10-12 minutes until cookies are golden brown. Let cookies cool completely.
7. Melt together the milk and semi-sweet chocolate chips in a double-boiler or in the microwave until smooth.
8. Carefully dip each cookie into the melted chocolate. Use a butter knife as needed to help spread and scrape the chocolate to completely cover each cookie smoothly. Place cookies back on a parchment paper covered tray in the refrigerator to cool completely, allowing the chocolate to harden.
9. Fill plastic decorator squeeze bottle half way with the white chocolate chips and place in a bowl of very hot water until the candy is melted and smooth. Squeeze white stripes across each chocolate covered cookie. Return cookies on the tray to the refrigerator to allow chocolate to harden.
10. To make the Zebra-Pop Cookies extra festive for a birthday party or other occasion tie a small piece of ribbon around each stick just below the cookie.
Makes 36 cookies