I'd planned on making cookies today, but when I went to the store for ingredients, I saw a box of Little Debbie Banana Twins and had a sudden craving.  So at lunch I had some Banana Twins and am now too full to bake.
The question is, what was up with the Banana Twin craving? Had I been reading too much about Angelina Jolie's twins?  Do I subconsiously want to have twins?  Why did I choose them over Nutty Bars?
Anyway.  This is probably the most useless post ever.  I'll have a new recipe tomorrow.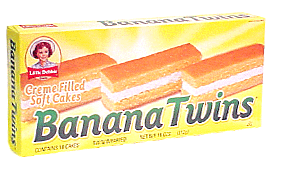 Related posts: