Hello from New York, where I am enjoying some breakfast in the lovely hotel room I booked on Priceline.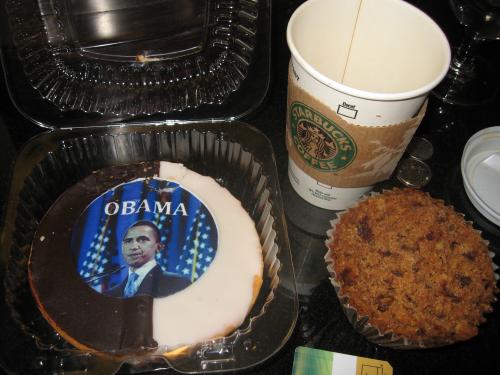 No, room service didn't bring that cookie. I had to schlep through Grand Central station in my pajamas to buy breakfast. Nobody gave me a second look. Ah, I love New York.
I'm here vacationing and since I don't have an iPod or even a real grown-up laptop, I'm borrowing the computer Fuzz won in the Draw Yourself Sharing a Lactaid Moment contest. It's not as powerful as the one I have at home, so editing and uploading photos is a challenge. Answering comments is also a slower process, but I'm doing my best. If I skipped yours and you are frustrated that I didn't respond, just email me directly using the anna at cookiemadness dot net address.
Anyway, thanks for stopping by, Saturday readers!  I remembered my camera this trip and will try to take a picture or ten later today. This morning, I am going to do some shopping!