Here's a photo of the Pineapple Coconut Layer Cake I made for today's Teacher Appreciation. I assembled it last night, kept it in a cake holder overnight and served it today.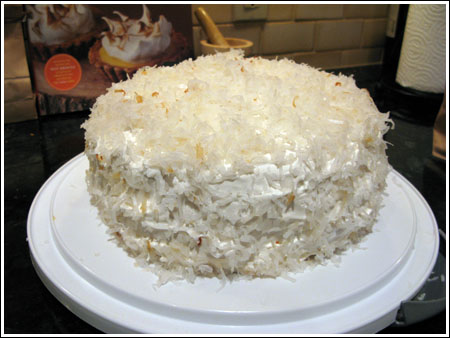 I think the cake went over well. As usual, I read all the Epicurious reviewer comments before making the cake. Some people used coconut milk instead of actual milk or added coconut extract (which tastes like sun tan lotion if you ask me), but I decided to do something crazy and follow the recipe as written. Well, I did throw about a half cup of coconut into the cake batter, but that was it.
The cake was moist and tender and had just enough coconut so that people who only sort of like coconut will probably enjoy the cake. My favorite part was the 7 Minute Icing which took 9 minutes.
More notes.
— Definitely use cake flour and weigh it or measure by gently spooning.  A couple of the people used all purpose and ended up with heavy cake.
— Add a dash of salt to the 7-Minute icing (okay, so that's another change)
Hmmmmm. Can't think of a third note.
Oh, and here's question. Has anyone ever heard of a cake carrier that turns into a stand? I've never seen one, but I think it would be great if there was a cake carrier with a snap-on airtight lid and some kind of collapsing "stem" on the bottom that you could pull out and turn the cake carrier into a stand. Because really, how does one transfer a cake from a carrier to a stand? Unless you serve the cake at home and assemble it on the stand, it seems like it would be difficult.