The comments on the blood orange juice giveaway post were what spurred our trip. We talked about them at dinner and I jokingly suggested we go to Italy for Spring Break. Not joking, Todd said "We should. It's the best time to travel". Two minutes later, I was on the Internet surfing travel sites.
One easy decision was that with only a week to travel, we'd cover just two major cities. We figured 3 nights in Rome and 3 nights in Florence would be enough time to see the major attractions plus a few things off the less-beaten-by-tourists path.
Getting There and Back
We discovered we could fly into Rome, take a short train trip to Florence and fly out of Florence for the same price as flying in and out of one airport. Taking the train around Italy seemed easy and fun; and compared to the money spent on airfare, first class train tickets were a bargain. I booked the train tickets on the extremely user friendly Rail Europe site.
But first we had to get to Italy. Finding a good fare in the summer is tricky because that is high season, but if you go in winter or the during "the shoulder" (Spring Break) air fares are lower and hotel room rates are very reasonable. As for weather, you have to take whatever Mother Nature gives you, but she's been kind to us in the past so we decided to hope for the best, and pack warm clothes and umbrellas. In the end, we got 7 sunny days – 3 warm, 3 cold, and a tiny 20 minute rain shower which was just enough to see what a rainbow over the Arno in Florence looked like.
About finding good fares, I spent a lot of time on cheapair.com and kayak, and while they led me to the best deals from other travel vendors, I found even better deals going directly to the site of the airline. The ones which were most helpful were the airlines that had grids showing dates and fares. Sometimes it's best to go directly to the source because certain airlines lay out a grid of dates and fares. American Airlines uses a grid and I discovered that Air France does too. I ended up booking our flight on Air France because they had good fares flying out of Houston and I fell in love with their website which was extremely easy to navigate. Another bonus was the flight out of Florence on Air France had a one night stopover in Paris – just enough time to check into the Paris Airport Sheraton, take the train into the city, have a nice dinner in the city, and get a good night's rest before the 10 hour flight home from Paris to Houston.
Fast forward to travel day.
Day 1
We flew out of Houston at 5:35 PM and with the 6 or so hour time difference, arrived in France around 8:15 AM. At 10:15, we boarded another flight and hopped over to Rome, arriving around noon.
Air France was pretty good. They had plenty of in-flight movies and the food was plentiful. The child meal, which had about 100 things on it plus a toy purse and game made Fuzz feel like a princess. The adult meals, with their free champagne and wine were good too. As for comfort, I am long and gangly like Abe Lincoln and never feel right in airplane seats. Sleeping is impossible. If anyone has any tips on sleeping in airplanes, let me know. One of these days I'm going to figure out how to fly first class without paying $3000 a ticket. It's expensive, but I'm going to do it before I die.
Despite not being able to sleep on the plane, jet lag wasn't an issue thanks to melatonin.
The trick, or so I've read, is to stay awake until your usual bedtime then take 3-5 mg melatonin between 9 and 10 of the time zone of your vacation location. So while I spent the first half day in Rome trying to keep my eyes open, I took the melatonin as directed and was fine throughout the whole trip.
But back to Day One. We were happy to touch ground in Rome where we were greeted by a driver I'd booked through Expedia. The drive to our hotel, The Westin Excelsior in Via Veneto, was about 15-20 minutes. I'd booked the Westin through Expedia as well. The accommodations were pretty much as described in guide books – glitzy and historic. It reminded us a lot of The Ritz Hotel where we stayed in London. We loved the room and really loved the fact that there was a pool.
Tip: If you plan on dragging a seven year old through museums all day, it's nice to reward the child with a late afternoon swim. Based on our experience, I will always try to book hotels with pools even if I have to pay more.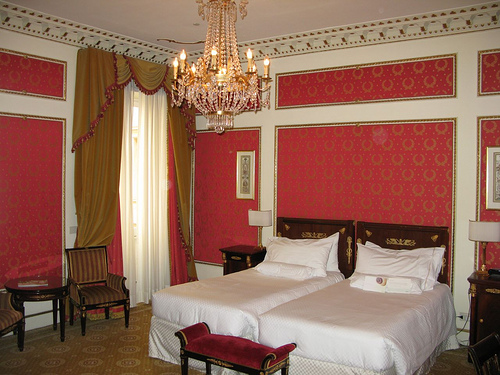 The Westin Excelsior is quite a walk from the major attractions. We'd walk all day, walk back to the hotel, rest a bit, then walk another mile to and back from the restaurants every night. It was good because we were extremely hungry when we got to whatever restaurant, but it was kind of tiring for Fuzz. There were restaurants in the Via Veneto area, but none of them were on my list of recommendations because friends had said they'd be too pricey or too touristy…..not a good value for the money. I can't say without having tried any, but the ones we did see were street side and surrounded by glass. I liked the idea of eating in one of these places because they looked cool, but didn't because I wasn't sure about the food.
Based on my experience staying in the Via Veneto, I'd recommend it to anyone who doesn't mind walking and who likes a quieter area. Next time I plan on staying near the Spanish Steps or Piazza Navona.
After checking into our hotel, we went exploring. Our first stop was the Trevi Fountain which was about 10 minutes from the hotel by foot.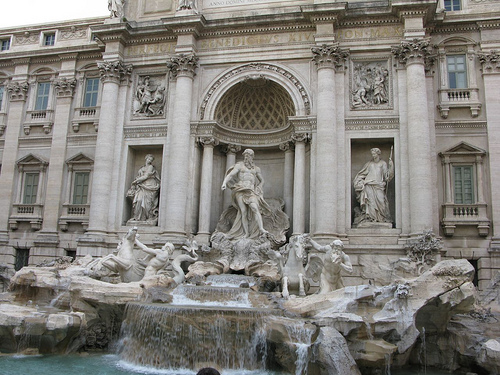 After gazing at the fountain, we stopped into the pharmacy next door where I used my Italian for the first time by asking the pharmacist if she had any melatonin. I'd left mine on the plane. She seemed to like that I at least *tried* to use Italian, but she could definitely understand English. I can't say the same for other people.
Tip: Try to learn a little Italian before you go. While a lot of people in the hospitality industry speak some English, many people in Italy do not and they really appreciate it when you try to speak their language. I'm going to work on my Italian.
After buying the melatonin, I asked the pharmacist where to get the best gelato in the area and her pick was Cecere around the corner. The Trevi fountain is surrounded by gelato stores so we needed a recommendation. In hindsight, and after trying gelato from six or so more places over the course of 7 days, I'd say Cecere was my favorite. I had vanilla, Emma had some intensely dark chocolate and Todd had caramel, which was very good.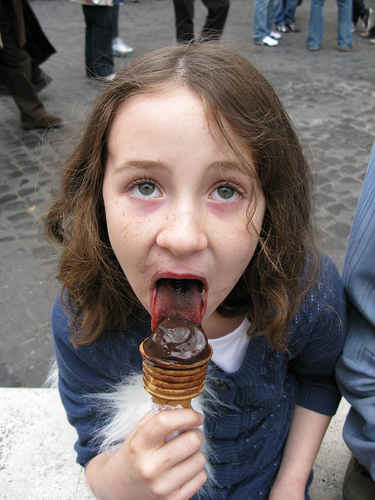 Energized by gelato, we headed toward our second stop, the Torre Argentina Cat Sanctuary. This was about a 15 minute walk from the fountain and not far from The Pantheon. If you've never heard of the cat sanctuary, it's a little plaza filled with ruins where stray cats of Rome are cared for. You aren't allowed to wander through the ruins by yourself, but you can pet the cats when they come up to the fence.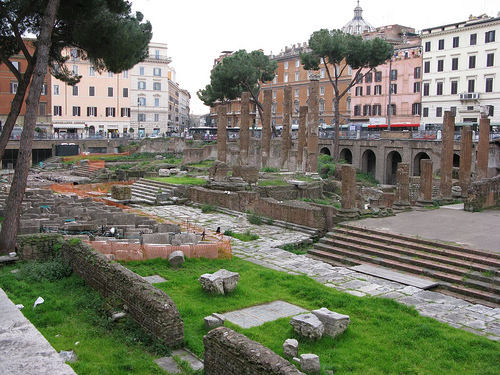 The real fun is inside the gift shop, so look for the steps going down and make sure to visit the shop. The ladies inside sell t-shirts and trinkets to raise money for the cats. They also coordinate adoptions and the shop itself is filled with live cats. Guests are welcome to play with them, hold them and make friends. Ask one of the ladies to take you into the adjoining room where you'll find even more cats. If you fall in love with a cat and want it shipped back home, you can arrange that for a little over a hundred dollars. We fell in love with a cat named Linus and spent the rest of the trip thinking what would happen if we shipped Linus to Texas. Ultimately, we decided not to because a) Lizzie wouldn't like it and b) cats at the cat sanctuary who don't get adopted get turned out to live in nice cat life among the ruins. Cats in our local shelter don't have that luxury. I was really impressed with how the Romans took care of their city cats.
After the cat sanctuary, with a little more time before dinner, we wandered back to the hotel, watched Emma swim in the hotel pool, then made the 25 minute hike to dinner in the Campo de Fiori area. I'm not going to say the name of the restaurant because I think they were having an off-night.
On our walk home, we took pictures of The Pantheon at night, bought some gelato at a candy store with a billion flavors then went back to the hotel and slept for 12 hours.
Day 2:
Waking up at 10:00 AM changed our schedule a bit, but we were refreshed and happy to have had such a good sleep. We'd scheduled a tour of The Vatican at 1:30 with a company called Angel Tours, so we decided to to have an early lunch at a little café in The Borghese Gardens which is just down the road from The Weston. We enjoyed sandwiches and cappucinos in the park, then boarded the subway at The Spanish Steps and headed over to The Vatican to meet our tour guides.
If you are going to The Vatican, you can tour on your own or pay for one. I was happy we arranged a tour with Angel Tours because the tour guide was very sweet, smart, and had a good sense of humor. The Vatican tour was interesting. What was funny was that you are not supposed to talk in the Sistine Chapel, yet it was the loudest room on the tour. My only regret about The Vatican visit is that we didn't get to meet Clumbsy Cookie's sister, who works there. She was going to meet us, but was on a tight schedule (her boss had a big speech in Africa) and since we'd already paid for the tour we couldn't meet her.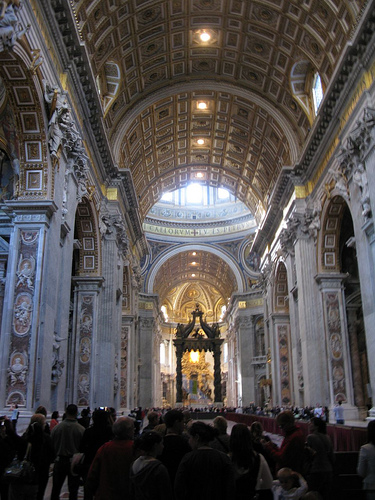 After the tour we headed back to the hotel, watched Emma swim, then walked to The Spanish Steps area for dinner at a place called Nino.
Nino's food was very good and we loved the busy yet still relaxing atmosphere. Emma would probably choose Nino's sirloin as her favorite dish on the trip, but be warned – in Italy they cook it very rare! Apparently she likes it that way. I had pasta amatriciana, and Todd had Tuscan style fried chicken. Because they were in season, we ordered a boiled artichoke. None of us cared for that. We didn't stay for dessert. Instead, we walked around and found more gelato at a small cafe near the hotel.
Day 3:
We woke up at about 8:00 and spent 50 euros on coffee and fruit from room service. They didn't have coffee pots in the room and I need coffee to function, so this was a necessity. I still feel bad about spending that much on breakfast, but fruit is expensive and we were on vacation. Still, the free breakfasts at the second hotel (I'll discuss that later) were VERY much appreciated.
Our plan for Day 3 was to head over to the Coliseum, so we jumped on the subway at a stop about about 7 minutes from the hotel and took a quick ride to the ruins. The Coliseum was breathtaking up close, but Fuzz was a little bummed because she thought we were going to see a show with an actual gladiator and perhaps a lion. We explained to her that the shows were bloody and brutal and that it's a good thing they don't do it anymore.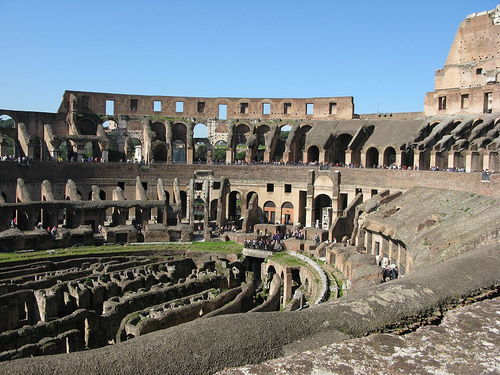 Afterwards, we walked across the street and toured the ruins at Foro Romano.
Around 2:00, we had a light lunch near The Coliseum at a place called Café, Café. It was a good place for salads, sandwiches and coffee or maybe a glass of wine. There were a lot of solo diners reading the news, eating sandwiches and drinking wine – it seemed like a good place to dine alone.
After lunch we got back on the subway and headed back the Borghese Gardens. Our destination was the zoo, but we got lost and ended up walking all over the park. It was sunny and in the seventies and I have to say, walking around that beautiful park was probably my favorite thing (besides eating) in Rome. We got lost in the park and finally found the zoo. It reminded me of the San Diego zoo but smaller. The animals looked happy and healthy and there were few lines. Most of the other people at the zoo were Italian….not tourists. Some men were wearing three piece suits and walking around the zoo. Did I mention they were a bit more stylish in Rome?
And guess what we did after the zoo? Yes, back to the hotel for more swimming.
Dinner on Day 3 was one of my favorites. After the swim, we put on our walking shoes and walked back over (again – at least a mile) to the Piazza Navona area for pizza at Pizzeria Baffeto.
The atmosphere was similar to Pepe's Pizza Grotto in San Diego. We got there right at 8:00, were told to wait outside on the street, then led to our table in the front – right next to the spot where they make the pizzas and a great spot because you can watch everyone come in the door. All over the walls were pictures of celebrities that had eaten there and letters from people saying how much they loved Da Buffeto.
And I will stop here to say something. I love how restaurants in Italy do not rush you. Da Baffeto was packed and there was a line out the door, but not once did we feel hurried and in no circumstance did any of the waiters at any restaurant fail to ask us if we wanted dessert. Give yourself at least two hours for each dinner (even at casual places), settle in, order wine and relax.
After Da Buffeto, which is now my gold standard for perfect pizza, we set out for some gelato at San Crispino, another place not far from the Trevi fountain. Fuzz would tell you San Crispino's licorice gelato was by far, her favorite. She ordered a mix of licorice and chocolate, while Todd ordered ginger/cinnamon and lemon. I mooched off everyone else. Thinking back, I'd say I liked Cecere's the best, but Emma and Todd would probably choose San Crispino.
Day 4:
Woke up, spent too much money on room-delivered coffee, took a walk around Via Veneto area, bought some cookies etc. in the "Despar" (grocery store), packed up and took a cab to Termini Station where we caught a train to Florence.
I will continue this later. It's been a really busy morning (orthodontist) and I still have more laundry.
At some point this week, I'll actually bake something!