These are just my current favorites and the list could change at any time. But these are the recipes I fall back on or recommend to people.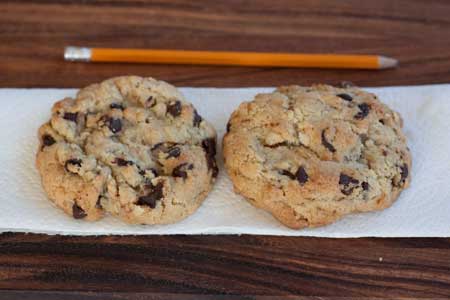 BAKE SALE BEST-SELLERS
Magic Blondies from Martha Stewart
Rocky Road Fudge Brownie Muffins
Zingermann's Brownie Clone
Rice Krispy Treats
BREAKFAST COOKIES
BHG's Loaded Oatmeal Cookie
Judy's Wholesome Chocolate Chip Cookies
Agave and Honey Oatmeal Raisin Cookies
Pumpkin Chocolate Chip Cookies
CHOCOLATE CHIP Had to have 10 for this category. Room for 1 more.
S'mores Cookies
New Cooks Illustrated Chocolate Chip
Almost Like Levain Chocolate Chip Cookies
Mexican Chocolate Chunk Cookies with Ibarra
New York Times Chocolate Chip Cookie
Chewy Chocolate Chip Cookies by D. Lebovitz
Crunchy Cookies from King Arthur
Alton Brown's Chewy Chocolate Chip
Alexis Stewart's Cookies (very thin and crispy)
Tate's Bake Shop Cookies (Thin with crispy edges)
DOUBLE CHOCOLATE
Mocha Walnut Cookies
Milk Bakery Chocolate Cookies
Shiny Cookies
Chocolate Shock Cookies
PEANUT BUTTER
Flourless Peanut Butter Cookies
Get Well Cookies
Criss-Cross Cookies
Sadie's Peanut Butter Cookies
Million Dollar Peanut Butter Cookie — Scratch and Convenience
OATMEAL
Oatmeal Cookie Guy's Cranberry Pecan
Oatmeal Cookie with White Chocolate
Old Fashioned Oatmeal Raisin Cookies
Oatmeal Chocolate Chip Cookies
SPICE COOKIES
Ginger Toffee Cookies
Chai Spiced Almond Cookies
Epicurious Molasses Cookies
SUGAR COOKIES
Lazy Mom's Sugar Cookies Cut-Outs
Cookies on a Stick Cut-Outs
NUTTY COOKIES AND BARS
VEGAN COOKIES
Vegan Oatmeal Peanut Butter
Vegan Chewy Oatmeal Cookies
Vegan Chocolate Chip Cookies
Vegan Brownies
FRUIT BARS
Raspberry White Chocolate
Creamy Lemon Blueberry Bars
Pineapple Cream Cheese Bars
Apricot Orange Bars
BASIC (YET EXCELLENT) BROWNIES
King Arthur's "Best Ever" with Hershey Dark Cocoa
Easy One Bowl Cocoa Brownies
Chewy Brownies
Hershey's Deep Dish Brownies
Minnesota State Fair Brownies
DRESSED UP BROWNIES
Caramel Filled Brownies
Outrageous Oreo Brownies
Mascarpone Brownies
BOXED BROWNIE RECIPES
Easy Peanut Butter Marshmallow Krispie Topped Brownies
Triple Espresso Brownies
BLONDIES Still need one
Pat's Chocolate Chip Bars
Malted Blondies from "Baked"
Chef Kate's Goop Blondies
BUTTERSCOTCH BLONDIES Still need two
Jenn's/Garret McCord's Butterscotch Brownies
Whole Foods Butterscotch Macadamia Blondies
Old School Betty Crocker
BARS WITH CREAM CHEESE
Peanut Butter Cheesecake Brownies
Pumpkin Cheesecake Bars
Butterscotch Cheesecake Bars
Related posts: