I don't have a big collection of cornbread recipes because Todd doesn't care for it; but I do have a history with cornbread. My mom served it one way – Gladiola brand unsweetened cooked in a skillet with a side of cane syrup for dipping. Blech! But my dad loved it that way so that's what we got.
During my late teens, around the time my parents' marriage started falling apart and my mom was too depressed to cook , I learned to make sweet corn muffins. My mother loved them and stopped making the Gladiola for my dad. Pretty soon he just stopped coming home for dinner. Oh, the melancholy of cornbread.
Now I like all kinds of cornbread and my mom does too. I also love my dad, but he can keep his unsweetened cornbread which my stepmother is all too happy to make….though sometimes she makes sweetened as well. As for Gladiola, it's part of the Martha White line but they've changed over the years too and now make all kinds of mixes including corn, flavored muffins and pound cakes which are pretty good if you're going to use a mix. But I like muffins from scratch.
Since I had more blueberries to use up and some cornmeal in the freezer, I tried this recipe. The muffins were tall and had big crowns. They were raggedy muffins, but they were still very good, breakfast/muffin-like (not cupcake like) and not too sweet. Plus, they had a little crunch from the cornbread…at least in the tops.
If you don't want to commit to a full batch, you can half this pretty easily. They also freeze well.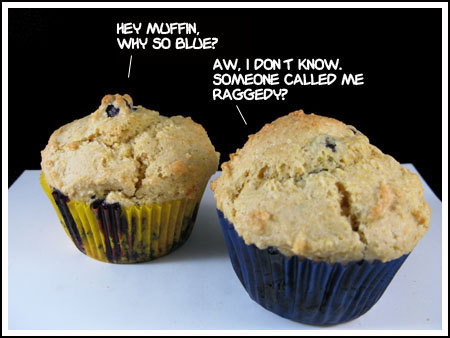 Blueberry-Lemon Corn Muffins
2 cups all purpose flour (270 grams)
1 cup cornmeal (160 grams)
1/4 cup light brown sugar (60 grams), very firmly packed plus an extra 2 teaspoons
1/4 cup (48 grams) granulated sugar
1 tablespoon baking powder (15 ml)
1 teaspoon baking soda (5 ml)
3/4 teaspoon salt (3 ml)
2 large eggs
1 cup milk
4 oz melted unsalted butter
1 teaspoon lemon zest plus 1 teaspoon lemon juice
1/4 teaspoon vanilla extract
1 cup fresh blueberries
Preheat oven to 375 degrees F (190 C) Line 12 muffin cups with paper liners
Thoroughly stir flour, cornmeal, both sugars, baking powder, baking soda, and salt in a together in a large mixing bowl.
Whisk eggs, milk, melted butter, lemon juice, lemon zest and vanilla together in another bowl.
Add the egg mixture to the flour mixture and stir gently until combined. Stir in the blueberries – batter should be pretty thick. Spoon batter into muffin cup and bake on center rack for about 20 minutes or until lightly browned.
Let cool slightly and remove from tins.
Makes 12!