If the Starbucks cookie recipe wasn't wholesome enough for you, here's another one you might consider. Peanut Butter Cornmeal Cookies are wheat-free, egg-free, almost vegan (just swap out the butter and milk for vegan versions) peanut butter cookie made with maple syrup, barley flour and cornmeal. I made a small batch this morning and thought the cookies were okay, but not very sweet and kind of dry. My two testers, 7 year olds who take the taste testing job very seriously, said the cookies were tasty but dry and asked me for a glass of water. If you try these, let me know what you think.
Peanut Butter Cornmeal Cookies from Mothering.com.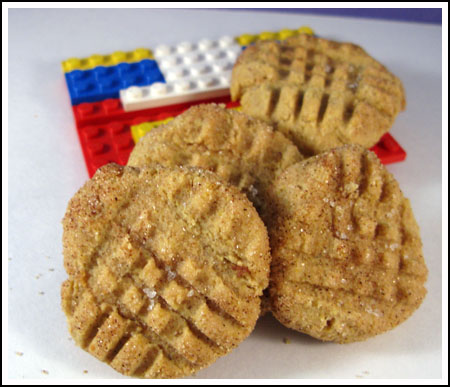 I rolled mine in cinnamon mixed with evaporated cane juice crystals to give them more flavor. It helped a little.