Todd and I were married 11 years ago in Nassau and figured it was time we introduced the place to Fuzz – specifically, the Atlantis Resort. So taking advantage of the long President's Day weekend, we found a good room deal on a site called bookit.com, used some airline points, and made an itinerary from Austin to Fort Lauderdale then onto Nassau via Bahamas Air.
Because we also had some free hotel room points and had never been there, we decided to make use of the stopover and get to know Fort Lauderdale for a day. It's a pretty city, with plenty of shopping, a science museum for kids and best of all, the water taxi – a boat that takes you up and down the canal alongside the ocean. As you float from stop to stop, the guides tell you about the houses alongside the water and the amazing yachts docked in front. We also passed by Port Everglades where I pointed out the cruise ships to Fuzz so she could get a handle on just how big they were. One day we'll actually go on one, but this trip we wanted to do more sightseeing on land. The water taxi isn't in this photo, but this is the canal.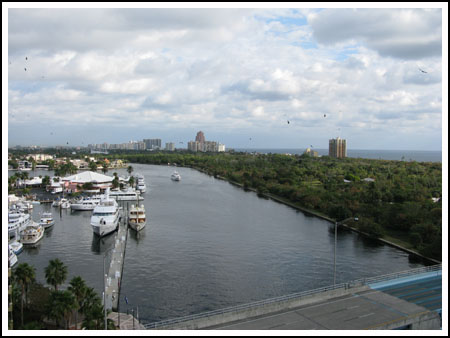 So after a busy day in Fort Lauderdale, two nights at a nice DoubleTree, two great dinners – one at Seasons 52 and another at a place called Capital Grille, we caught our plane to Nassau the next morning.
I'd never flown Bahamas Air, but was impressed. The staff were friendly and the planes were on-time, which is about as much as you can ask for a 30 minute flight. We arrived to find the island fairly busy with a lot of other tourists, most of whom seemed to be from the East Coast. As Texans, it would have been a lot easier for us to just go to Mexico for the weekend, but we fell in love with Atlantis years ago and the hotel had a water park and casino which was a plus.
The cab ride from the airport to Paradise Island was about 30 minutes and cost only $25.00 . As for Atlantis, it was much larger than I remembered. The resort was pretty busy too, especially with what seemed to be cruise passengers walking through the halls with backpacks and checking out the fish in what Atlantis calls The Dig, a big aquarium designed to look like an old archaeological dig.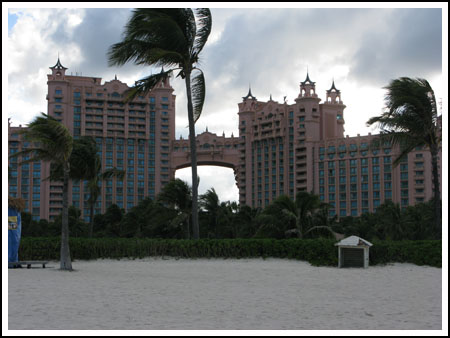 We headed straight up to our room which was in The Royal Towers. I was worried it wouldn't be a great a room since we'd booked it with a third party I'd never used, but it was quite lovely with a view of the water park and ocean, and a lot of space to move around. It was also convenient to the water park, which was a big bonus. I'd definitely stay at The Royal Towers again, if not one of the older sections called Coral Towers and Beach Towers. As flashy as the new buildings were (Cove, Reef), the older section of Atlantis was still quite clean and nice, or at least it seemed to be during all our walks through it.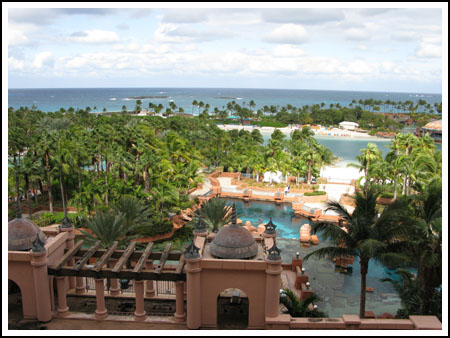 After getting oriented and grabbing a quick but not inexpensive (bring a lot of money with you to Atlantis) snack from Murray's deli and admiring the yachts parked next to it, we headed over to the water park, which because of the cool weather, had absolutely no lines. I was wearing a hooded coat and Todd and Fuzz wore bathing suits. They both took a turn on the Mayan Temple waterslide and were both scared out of their minds. Todd wanted to do it again, but Fuzz said one time was enough. So after the big slide, they did a couple of little slides and then we just wandered around exploring the property.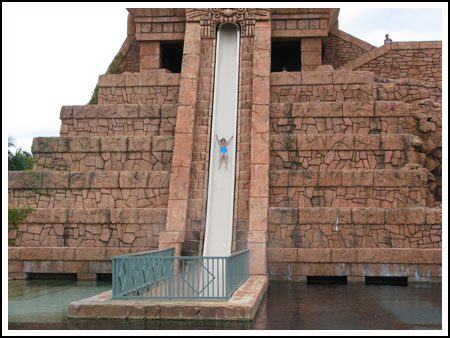 After warming up in the room and getting freshened up, we headed over to Mesa Grill at The Cove.
In the guide to restaurants, Mesa said "Children over 12 Welcome" but it seemed children of all ages were welcome because the restaurant was packed with well-behaved kids. In a lot of ways, it reminded me of a Disney resort, but we enjoy Disney so that was fine. Mesa Grille was good. Fuzz and I shared the 16 spiced chicken and Todd had rib eye with chipotle glaze. Mostly, we enjoyed the atmosphere. For dessert, we went back to the room and ate Valentine's candy and coffee from the little in-room machine. Atlantis does put coffee machines in each room, which is a big deal for me.
After a very good night's sleep in the extra comfortable beds, we woke up, grabbed breakfast in the little To Go area near our room called Plato's, then walked over to the Ferry terminal to meet the boat that would take us to Blue Lagoon Island for a Dolphin Swim.
Blue Lagoon Island is a 20 minute ferry ride from Atlantis and it's the home of the original Flipper dolphin and many other well cared for marine animals. I did tons of research before selecting Blue Lagoon for our dolphin swim, and am glad I did because Todd and Fuzz had a blast! Atlantis has a Dolphin encounter as well, but Fuzz was dying to do the foot push and kids have to be 10 and older to do the foot push at Atlantis.  Blue Lagoon lets 8 year olds do it, but Fuzz was the youngest in her group by far.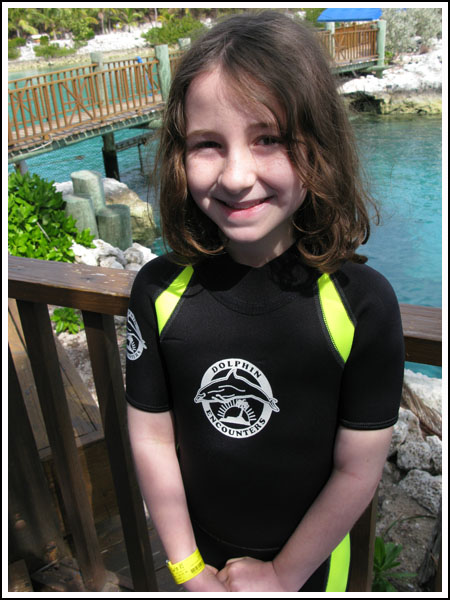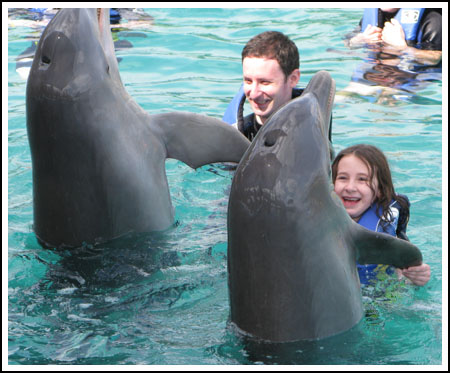 After the dolphin encounter, we took the ferry back to the hotel and walked through Harborside Village, where there are a bunch of Atlantis timeshares. We ate lunch for the first time at Johnny Rockets and Fuzz ordered a "grown-up" style burger rather than a kid burger. It was a coming of age because she's always gotten burgers with the usual kiddie fixings – catsup, mustard, pickles, cheese. I think she'll be ordering burgers off the grown-up menu from now on. The shakes weren't too shabby either.
Later, we spent some time on the beach where I got to show Fuzz  just how blue water can be.  She was impressed.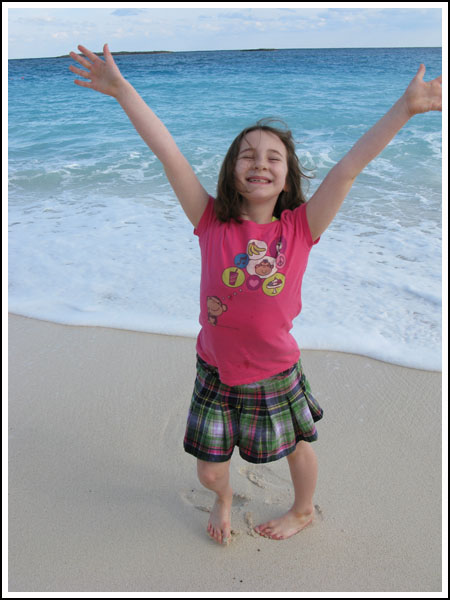 She also liked the waves, but the ocean was getting a little too choppy at that point.  So we headed back up to the water park area and played around in the pools.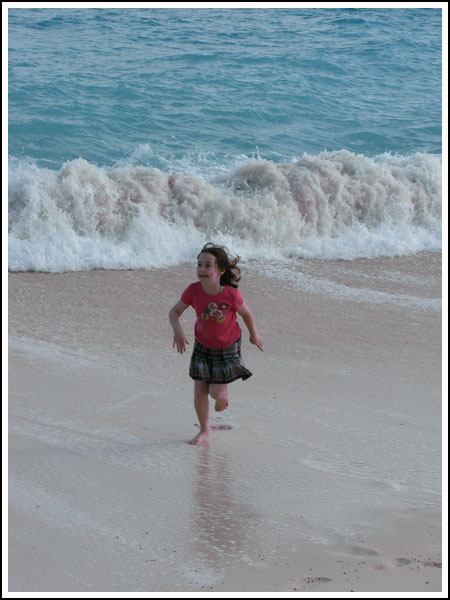 After resting up again in the room, Fuzz said she wanted to spend the evening at Atlantis's new Kid Adventure which is an 8,000 square foot organized play area with a kitchen, theater, and all kinds of areas with toys. The  cost was $60, but it sounded like a lot of fun and we figured Fuzz would like it better than eating at Nobu and playing video poker and slots, which is what Todd and I did.  And we had some good luck.  Todd put $5 into a slot machine and won $60 — just enough to pay for the Kid Adventure session.  We all had a fun evening and went to bed.
The next morning, Fuzz was very, very, sad to leave Atlantis. But we did and we had a pleasantly uneventful trip home, which is more than I can say about most people's airport experiences this past weekend.
Oh, and we picked Lizzie up from the kennel. It was her first time being boarded away from home and she behaved like champ. She ate her food, didn't give the kennel folks any problems, and seems 100% normal.
But back to Atlantis. It wasn't quite how I remembered, but it was better than Fuzz had ever dreamed and that's why we chose it over a quieter island resort. There's just so much to do for kids and the fact that they have a kids club gives the grown-ups a break after a long day.  I can't wait to go back, but I feel like we should give Mexico a try as well.
Do you have a favorite beach resort?