Happy St. Patrick's Day!
Nobody's mentioned it here in Florence, or maybe they have and I just didn't understand it in Italian. Or maybe it's too early — it's 7:00 AM and I'm posting some pictures before we have breakfast in our pensione and meet our driver, Guido, for a tour of Tuscany. I think he's taking us to a little town called Lucca and a few others. We're going to taste wine and olive oil.
So far, the trip has been fun. We took United to Chicago and flew direct on Alitalia (9 hour flight) with no problems. I even managed to sleep a little thanks to this special travel pillow which I'll link to later if you're interested. It's for side sleepers. We arrived in the morning, took the train to Florence, and were wide awake and ready to explore.
Our hotel is a about a block south of Santa Maria del Fiore — better known as The Duemo.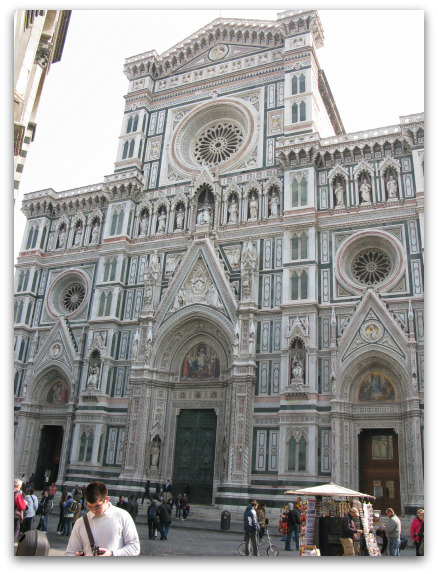 It's a great location for a hotel because if you get lost on the streets of the city, you can easily get back to the Duemo and follow landmarks from there. I'll tell you more about the hotel later, but it's a pensione called Hotel Beniviene.
Here's a cookie idea for when I get home — giant meringues. This is not a cookie you see very often in Texas, though I did see meringues one time in a Brooklyn bakery.  In the background are cantuccini and what I did not take a picture of was the panforte, which is very popular here.  I haven't tried that yet and am not sure if I'd like it.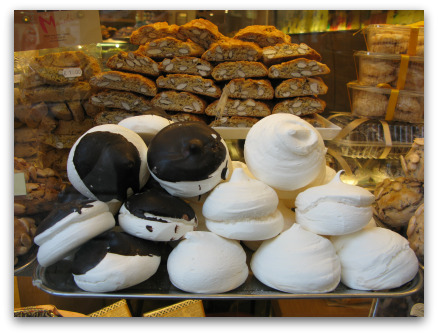 I took that picture on our walk to The Pitti Palace, one of my favorite museums/palaces. It's in an area just south of the Arno called Oltrarno. I'll post pictures of the palace later. I figured you'd want to see the cookies first.
On our second day here, we strolled over to Palazzo Vecchio which we somehow missed on our last trip. It's another Medici palace off a piazza called Piazza della Signoria. Piazza della Signoria is where the original David used to stand — the one that's there now is a replica, as the original is in a museum.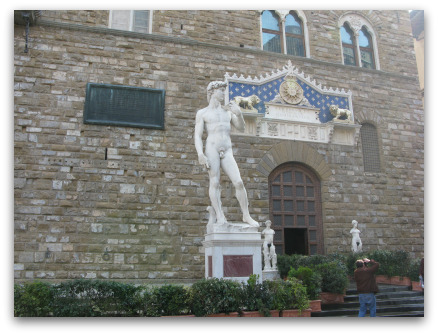 There are other famous sculptures in the piazza as well, and I'll post pictures later because I'm really skimming the surface right now.  Truly, the piazza is like a little outdoor museum and a wonderful spot in the city.  I will mention that this is the piazza where the monk Savonarola staged the bonfire of the vanities. Later, they burned him here.  Or so I've heard.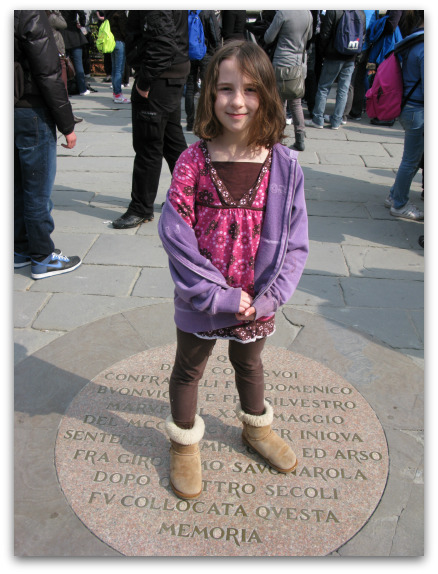 Time for breakfast!  More later. I have a couple of restaurant recommendations to add as well.  If you have one for us tonight — post it it!  So far we've eaten at 4 Leoni, La Giostra and Golden View Open Bar (because it was open on a Monday).