Hello from Rome,
We left Florence yesterday after a full 4 night visit and arrived in Rome this afternoon via  Eurorail. Train travel here is quite pleasant and first class tickets don't cost an arm and a leg so you can really relax and enjoy yourself while going from city to city. So we are in Rome now, resting in the hotel room after a walk around the city and a visit to the cat sanctuary which we love.
Our hotel is Albergo Senato, which was recommended to me last year by a Cookie Madness reader. So far, it's wonderful — and not just because the wireless works!  I'll be posting more thorough reviews on TripAdvisor.
But back to Florence. We enjoyed our entire stay, but our favorite part of the Florence trip was Wednesay, which is the day we spent riding through the hills of Chianti with Guido Bandinelli. Guido is a licensed driver and sommelier and he knows everything there is to know about Chianti, as he grew up in the region. He's an expert on Chianti Classico AND olive oil, and I learned so much riding in the back of his van and listening to him tell us about the various vineyards and olive oil factories.
Guido's tour included plenty of scenery, but the best parts were the stops at small, award winning vineyards where Guido has personal relationships with the owners. I'm mentioning all this because if you find yourself planning a trip to Tuscany and would like to spend a day in Chianti, Guido is the one to call. His prices are very reasonable and if you split them with a friend, they're downright economical. We were lucky to have him all to ourselves.  We also got plenty of personal attention from the employees and owners of the various wineries we visited.
So if you need a guide, Guido is the one to call.
Okay, o to a few random photos. I'll be posting the rest on Flickr when I get home, but here are a few highlights from Chianti.
This place is actually right outside of Florence.  It's a beautiful cemetary and memorial to Americans who died in Italy during World War II.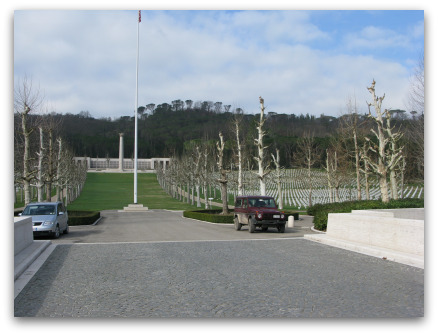 This is the Corsini family vineyard, our first stop on the way.  It's owned by a real prince and princess who work at the vineyard.  We didn't get to meet them on this trip, but we did try their Chianti Classico and their olive oil, which was absolutely incredible.  We bought enough to last us for quite a while, thank goodness.  It's truly the best olive oil I've ever tasted.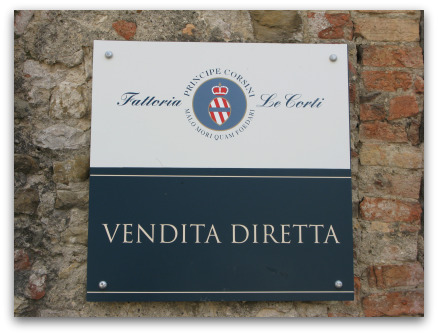 This is the Corsini family villa.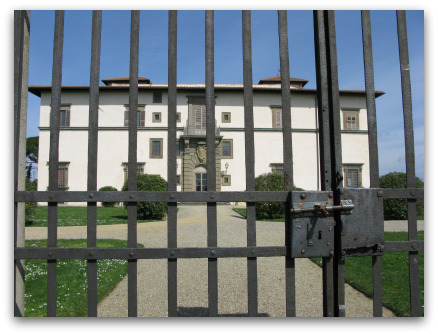 After tasting wine and olive oil at Corsini, we went to lunch at a restaurant in Sant' Andrea in Percussina which hosts a winery and museum dedicated to its former resident, Machiavelli. It's also the exact location where vintners meet to get the seal of "Classico" which is the black rooster.
After lunch at the Machiavelli vineyard restaurant, we drove to the third vineyard, Fattoria San Michele a Torri where we tasted a Super Tuscan, Chianti Classico and Chianti.  Because of their location, this vineyard can produce both Chianti and Chianti Classico.  They also make an excellent Vin Santo and a high quality olive oil.   Here's Fuzz among the wine barrels.  I think I have 100 pictures of Fuzz hanging out in wine cellars.   Poor kid.  I hope she learned something about wine making.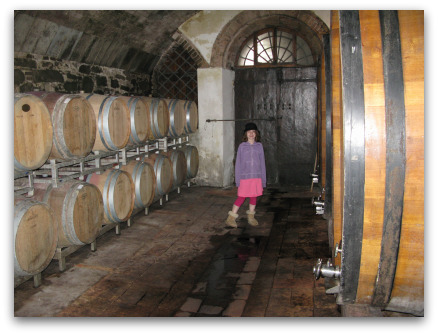 Well, that's all for now.  Will post more pictures soon.  We're heading for dinner in the Trastevere, which is a neighborhood in Rome I have not yet visited.