Well I was hoping to post a picture of some "Halfway Bars" this afternoon, but the recipe turned out to be a dud and the bars went into the trash. I'm still kind of bummed about it, but rather than sit and stew I decided to post a trip report. Sorry it doesn't include any recipes, but if you're going to Chicago you may find it helpful. It's one of our favorite cities and I can't wait to go back. If you've been, feel free to add your favorite stops in the comment sections.
Day 1 — We started our trip in the Loop area where we enjoyed a late dinner at The Gage, a pub style restaurant with a UK inspired menu which includes things like  Scotch Eggs.  None of us were very adventurous with our orders, though.  Todd got fish & chips, I ordered Amish chicken and Fuzz had fried zucchini.  The food was good, but I now wish I'd ordered something a little more unusual like one of the hamburgers made with English cheese and a malted bun.   Guess we'll have to go back!
Day 2 —  The next morning we got up early and took a walk from The Hilton Chicago to Soldier Field where we found a little park called The Children's Garden.  Todd made some Gowalla spots and we headed back to the hotel to check out and store our luggage.  We were moving hotels later that day — not because we didn't like the first one, but because I like dividing the trip between the loop area and Magnificent Mile.
But we were still down in the loop area and spent the morning and rest of the afternoon at The Art Insitute.  With an 8 year old you have to kind of skim the surface the best you can and keep moving, but we managed to see the Impressionists, American Art,  and Thorne Miniature Collection which were our prime draws.  The Art Institute's Ryan Education Center also had a special Kids' area where they allowed children to paint their own masterpieces.  The theme was "Express Yourself" and images of Jackson Pollack and other modern artists were set out as inspiration.  If you have kids, make sure to check the schedule and go when the education center is having a special event.  It's a nice break from looking at paintings all morning.  Another nice break is the Garden Cafe located in the museum itself.  It's a perfect little cafeteria style restaurant — clean, sunny, lots of good choices for lunch (healthy and hearty) and just a nice place all-around.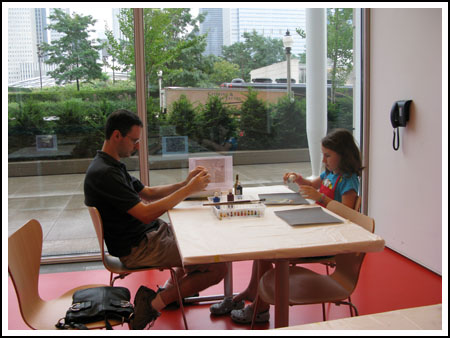 Okay, so once we'd finished with the art institute, we skipped on over to Millenium Park and took pictures of The Bean….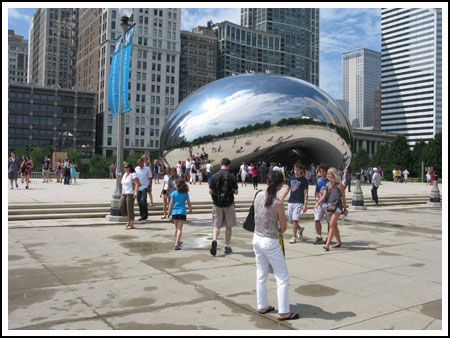 …Todd was very proud of this one.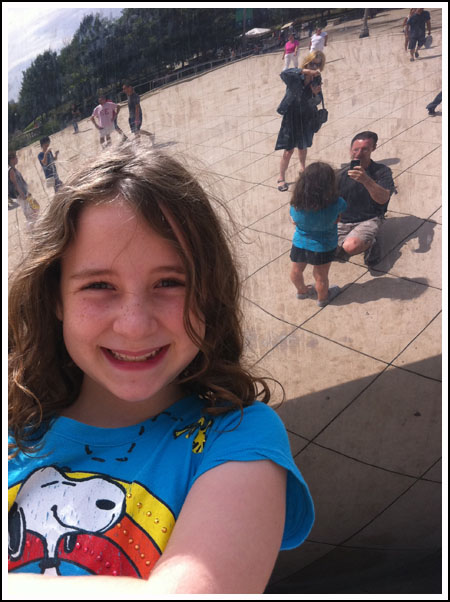 After The Bean, we picked up our luggage and headed north to the second hotel — The Four Seasons Chicago.  I've only stayed at a Four Seasons one other time and it was on someone else's dime.  We paid for this visit and it was worth every penny. The view was spectactular, the pool was big and uncrowded and the concierge was fantastic.  They treated Fuzz, whose birthday is next week, like a little princess.  Every day she'd come back to a new surprise in the room — toys, fancy cupcakes, popcorn, notes and special bath stuff for kids.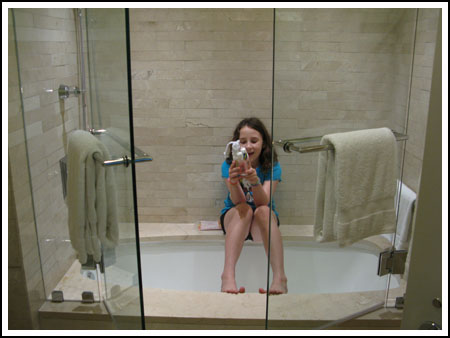 She love this hotel and I think they have found a new customer for life.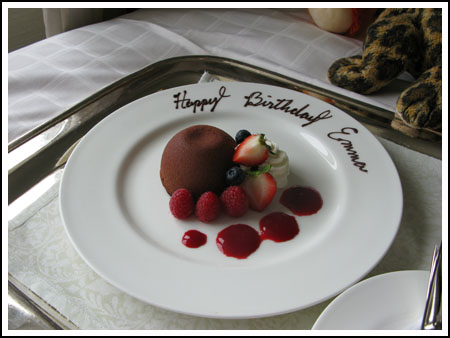 Dinner that night was Todd's favorite, Gibson's.  It was packed on a Sunday night, but the crowd was diverse, lively, and happy.  The steak was the best I've had in a while and the service was friendly and genuine.  We had such a good time we were sad to leave, but we bagged up the rest of our massive piece of carrot cake (note:  This month's Saveur has a recipe for one that looks strikingly similar) and ambled back to the hotel.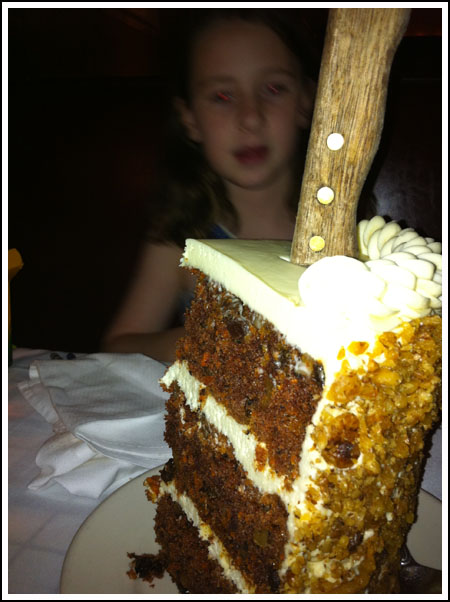 Day 3 — Naturally, we had to visit the Lincoln Park Zoo.  We did a lot of walking and saw the seals, gorillas, and big cats, then spent some time at the little farm in the zoo where an egg had just hatched.  For lunch, we ate on the patio of the little zoo restaurant where they served a lot of different things including Chicago style hot dogs.  Fuzz is still talking about this hot dog.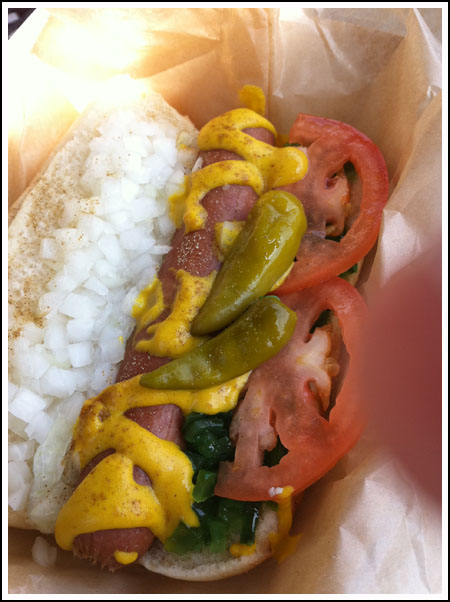 From the Zoo, we took the bus over to the Wrigley Building to ride the Wendella Boats.  When we got there we saw the boats weren't covered and that the sun was beating down, so we bought tickest for  5:30 trip the next day, then walked over to Trader Joe's to buy goodies — Mint UFOs, Ginger Cats, Thousand Layer Crackers — important things like that.  And then we went back to our hotel for a swim before dinner at Cafe Spiaggia – one of my other favorite Italian places in Chicago.  I've never eaten at the actual Spiaggia and would like to someday, but the cafe is just perfect for us.  It's casual, the room is pretty, they serve the BEST olive oil (and olives) and the pasta is excellent.  But back to the oil, I wanted to buy some but it's $42 a bottle.  It probably would have been worth it in hindsight, but at the time I figured I'd order it from my source in Tuscany ;).
Day 4 —  This was our last full day, so the family went to The Museum of Science and Industry and left me to wander aimlessly about the city.  After spending the morning trying on clothes that didn't fit right and getting frustrated, I bought some books at Border's, picked up lunch in Bloomingdales little restaurant Forty Carrots (they have THE BEST frozen yogurt)  then went on a long walk through my old neighborhood to see how much it had changed.  I also walked through Old Town and stumbled upon The Oil Shop where I bought some Italian olive oil which was a bargain at $16.00 and almost as good as Spiaggia's which was $42.   What's great about the store is the clerks will guide you from oil to oil and help you choose one based on your flavor preferences — bitter, buttery, fruity, etc.
That evening we took a Wendella Boat architecture tour which was a lot of fun.  We'd intended to take the river  tour, but the captain of the boat didn't show up (scheduling conflict) so we got put on a tour that went in the river and Lake Michigan.  I'd taken this tour before, but had forgotten a lot of Chicago history, so it was a good refresher and a nice way to spend an evening.
For our last meal, we decided to try our luck at Frontera.  Ha Ha Ha Ha.  We stopped in at 8:00 and found the wait to be 2 hours.  We didn't have a solid back-up plan and ended up at Keefer's.  I was tired of steak by that time, but Todd is never tired of steak and said his was great.  We all enjoyed the atmosphere and they did serve some excellent cheesecake.  I have to say, I was bummed we didn't eat more ethnic food while we were there so again — have to go back.
The next day we came home.  I made red velvet cake, paid some bills, put the registration sticker on my car, took Fuzz to the orthodontist, did laundry, baked,  shopped for groceries, supervised installation of blinds, paid more bills and am READY TO GO BACK.  Just kidding.  School's about to start.
It's been an interesting summer.