Happy Thanksgiving, Charlie Brown!  You bring the toast, Peppermint Patty can bring the popcorn, and I'll bring dessert.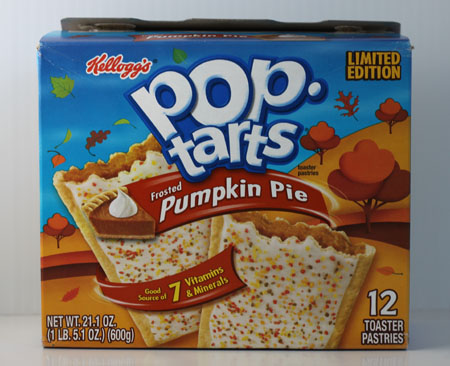 Sorry about the too-early-for-Thanksgiving humor, but when I saw these at Target the first thing that crossed my mind was the Peanuts Thanksgiving Special and how perfect a dessert these would have been. Someone at Kellogg's is a flavor genius, so I bought a box in that person's honor even though I wasn't sure I'd eat them.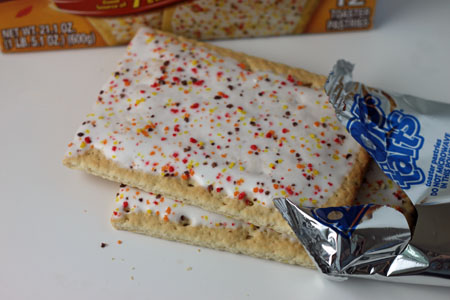 Okay, that was a lie.  Of course I'd eat them!  I've never met a Pop Tart I didn't like and neither has Fuzz nor Todd, though Todd is partial to the fruit flavors while Fuzz sticks with the "creme" variations.  Everyone likes pumpkin pie, so I was sure these would be a hit.  Or at least they'd get a laugh.
This morning I served Pop Tarts for breakfast and even skipped the forced toasting,  which is a source of contention in our family as I am an ardent believe in toasting Pop Tarts and the rest of the family like them raw.  I usually just toast them anyway and hand them over, but Pumpkin Pie Pop Tarts got a "Get out of the Toaster Free" card since pumpkin pie is rarely eaten hot.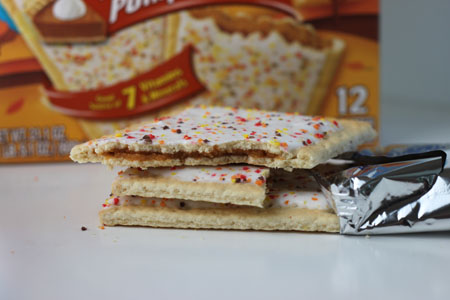 The verdict? They were good and tasted like pumpkin pie in a Pop Tart crust. About what you expect and in a good way. I waited until later in the day to try mine and sampled the Pop Tarts raw and toasted. Toasted was definitely better.
Good luck finding these, Pop Tart fans!  Like I said, I found them in Target in the seasonal Halloween area alongside the Halloween sprinkles (Hooray!!!), Halloween themed cupcake mix and candy.  I'm not sure they'll still be around by Thanksgiving, but they'd make a good substitute for pumpkin pie.  At least if you're Snoopy.