Yesterday Todd and I spent the afternoon at the Texas Book Festival, a yearly event where authors from around the country promote their books on the grounds of the Texas Capitol building here in Austin. The sun was shining, the temperature was in the 80s and it was just a great day to be outside browsing books, checking out local literary organizations and listening to live music coming from the band tent. Of course our main  interest was the cooking tent where Matt Lewis and Renato Poliafito the authors of Baked Explorations: Classic American Desserts Reinvented

were doing a demo.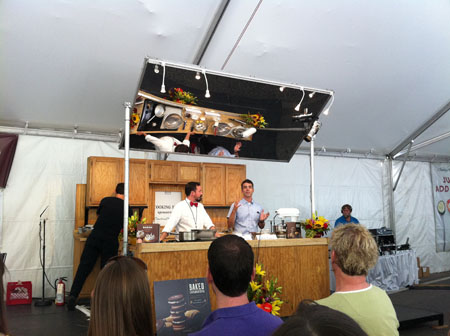 Todd and I figured the tent would be crowded, and we were right, though we did snag a couple of seats amidst folks of all ages who seemed sweet and supportive and down-to-earth enough to shout out variations on Jell-O salad. More on that later, but the demo was on how to make black and white cookies which they did as they gave tips on techniques and ingredients (they always use Valrhona cocoa powder) and told stories about how they collected recipes for their new book.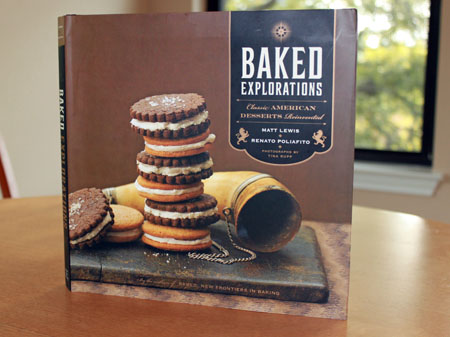 Baked Explorations is a collection of recipes inspired by their travels around the country. Wherever they went, people were always mentioning long lost recipes. The goal of Baked Explorations was to put all those recipes together, modernize them with steps such as taking out lard and/or  incorporating their beloved stand mixer and adding ingredient twists. With photography just as gorgeous as that of their first book, Baked Explorations includes variations on Mississippi Mud Pie, Salt & Pepper Sandwich Cookies, the authors' version of Devils Cake, an Orange Creamsicle tart, a very intriguing pudding type bar called Aunt Sabra King's Pudding Bars and the aforementioned Jell-0 Salad which their editor didn't want in the book but which they slipped in anyway. I like Matt & Lewis. They are not only smart enough to run a successful business, but talented bakers who can teach without intimidating, avoid pretentiousness and make you want to run to the kitchen instead of away from it. That, plus they are truly creative with their twists on recipes. Next time I'm in Brooklyn, I'm going to try to make it all the way to Red Hook to visit the store. Or maybe Charleston, which they mentioned has a customer base with a sweeter palate. It was great seeing them and I'd pay full price for one of their books any day! The question is what to bake first?