This week I was invited to Hershey, PA to get to know the faces behind The Hotel Hershey, Hershey's Cookies, and The Milton Hershey School.  While it's nice to be home for the holidays, I'm already planning a second trip for our family. With friendly people, great service, a variety of hotels and loads of activities in one small area, it really is one of the sweetest places to go and I can't believe I didn't make it to Hershey sooner.
There's a lot to cover here, so I'm going to post a few highlights from the trip, photos and links.  Feel free to email me if you have any more questions.
Hershey has a multitude of lodging options, but as guests of Hershey we were kept at Hotel Hershey's Woodside Cottages, which are a short walk from the main building and quite luxurious. Whether you're traveling with a group and need a cluster of rooms attached to one main room or traveling alone and just want a larger room with a refrigerator and access to a microwave ( in some cases, a fireplace), the cottages are away from the hustle and bustle of the hotel and spa, but close enough to walk.
This is a side view of my cottage, which backed up to the woods.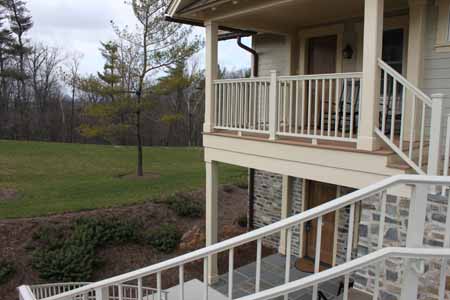 And this picture gives you an idea of the walk from the cottage to the main building.  To the left of that playground behind that tree is an ice rink.  It's actually made of a special polymer so guests can skate year round.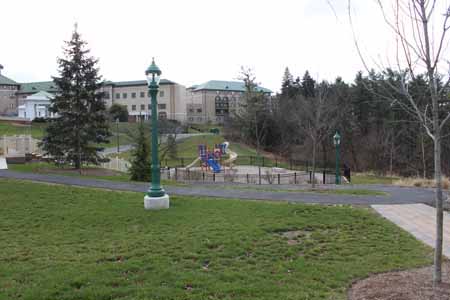 After a Hershey's whipped cocoa bath in the cottage's outrageous tub (the bathrooms are incredible), a good night's sleep and breakfast in the cottage, I went to the spa for a cocoa massage. It was my first massage and it was fun, but next time I might go for the facial.  I've never been a spa type person, but I can see the appeal.
A few hours later, still smelling of cocoa, I met up with a group of bloggers, our PR team and the Hershey's team for a trip to Chocolate World — a place you can ride the free chocolate tour ride, shop in the market place, buy sweet bakery treats or create your own candy bar using real factory equipment.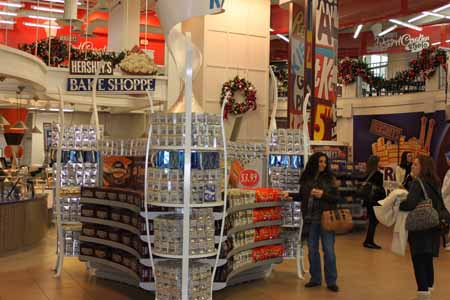 Here's my bar going through the line. When I told Fuzz about how I got to choose the add-ins and design the package, she was very interested, so I guess this is a big draw for 9 year old girls. Also, chocolate really does taste better right off the assembly line.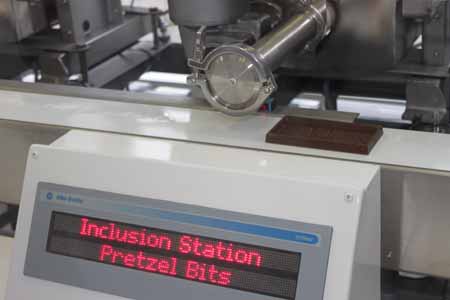 After buying souvenirs at Chocolate World and making candy bars, we were shuttled over to one of the Hotel Hershey restaurants, Harvest. Dinner was nice — kind of what you'd imagine a welcome dinner would be with beef, fish, vegetarian choices for everyone, but the stand-out was an incredible pumpkin pear soup. This morning I found the recipe on-line and might try to make it myself.  Sorry no photo, but I was trying to be sociable and not take too many pictures at dinner.  I made up for it the next day at lunch, though.
Okay, next day — our first full one.  Here it goes from start to finish.
We had a quick breakfast in the cottage and boarded a shuttle to the Hershey Story Museum. This is the place to learn loads of fun facts about Milton Hershey and the town.  My favorite thing was this interactive game where you put the cursor on a building, drag it over, and get facts and photos about various landmarks in Hershey, like the school, Hershey Gardens, Hotel Hershey and zoo.  Did you know Hershey had a zoo?  They do, and it's a rescue zoo.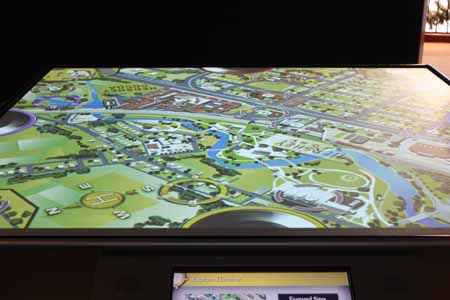 And then there were the equipment displays. I'll bet they're glad they don't have to hand wrap Kisses anymore.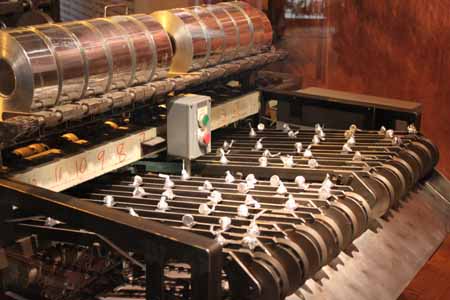 The history part was educational, but what I really loved were the two interactive things we did downstairs.  First, we took a chocolate art class in the Chocolate Lab.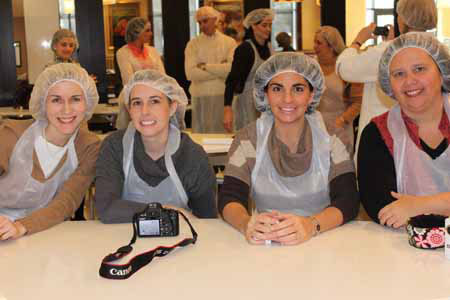 Before we could make our chocolate creations, we had a lesson on what went into milk chocolate…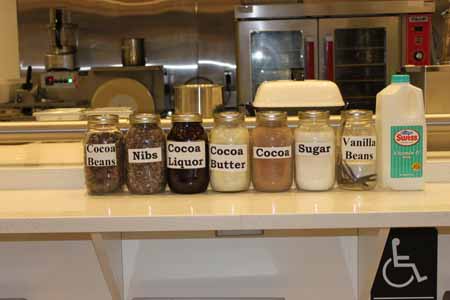 ….and the harvesting and processing of cacao beans.

Then on to the art.  I could have done this all day.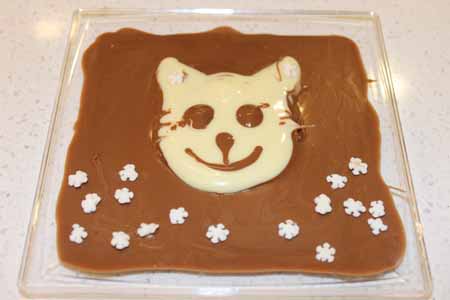 Next was the chocolate tasting in the museum's food area. For about $10, anyone can do this. You get a tray with a map on it and several color coded glasses of chocolate from different regions on the map.
We all had strong opinions.  I liked the chocolate nobody else liked, though.  Uh oh.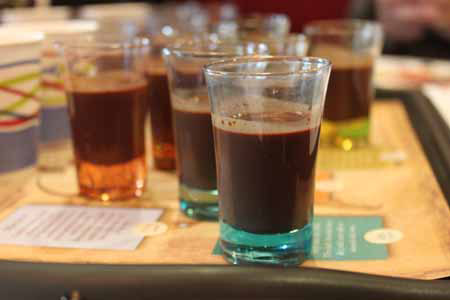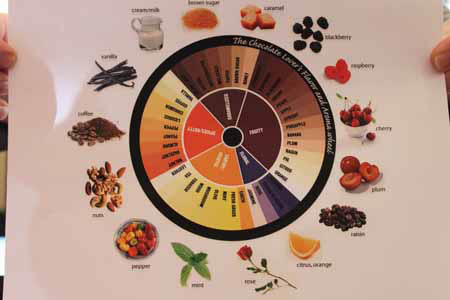 Next up was lunch at Hershey Lodge's restaurant, The Forebay. I'm giving that meal its own post since it was chocolate infused. I think I'm still full from it.  Post to come.
After lunch we were shuttled over to the test kitchen to bake cookies and meet Hershey's baking expert, Linda Stahl.  Linda has been with the company for many years (her son works there now) and knows all the recipes. I would have liked to spend more time talking to Linda, but we had to get to work baking cookies because there were some excited kids over at The Milton Hershey School waiting to eat them.
Here are some photos from the test kitchen.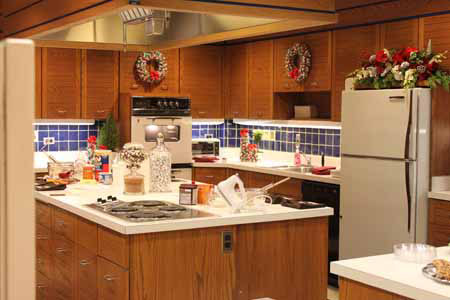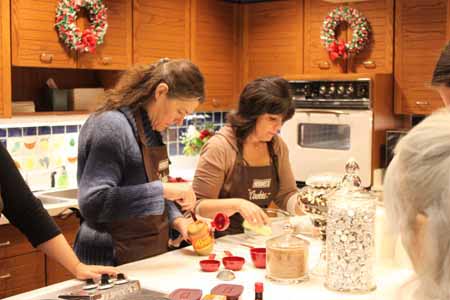 One of my favorite cookies.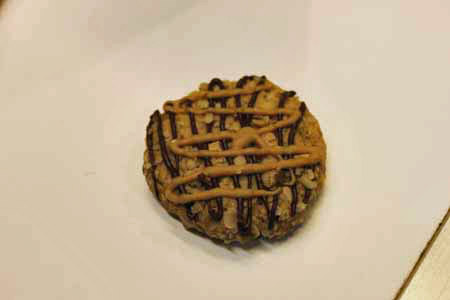 Does your pantry look like this? For a minute I thought I'd stumbled into the McCormick pantry, but that's just one section.  At the test kitchen, they make it a point to use what the average consumer can pick up at the average grocery store.
After all the test kitchen baking, we were shuttled over to the school and dropped off at various cottages for dinner.  My group went to Weiser House where we had a casual take-out pizza dinner with the The Hughes family and their Milton Hershey family of boys.  I didn't take any pictures at dinner because we were too busy talking and getting to know each other, but now I wish I did.   Dinner went by quickly and we were soon on our way to the girls' cottage for the cookie exchange.
The girls were anxiously waiting for us in a big room where  all our cookies had been laid out on trays.   In the center of the room were empty silver tins, ribbons, stickers, paint pens and tape for decorating. Each child got a silver tin and was told he or she could take 6 cookies for their tin.   What a fun time this was, picking cookies and decorating tins. And yes, I did take notes on which cookies seemed the most popular.
It was hard for us not to mention our kids at home, but the MHS kids were genuinely interested. One little girl took a particular interest in Fuzz and made  a tin of cookies for me to carry home and give to her. She was so sweet and Fuzz was so happy to get that tin.  Now she wants to be pen pals with her new friend at MHS.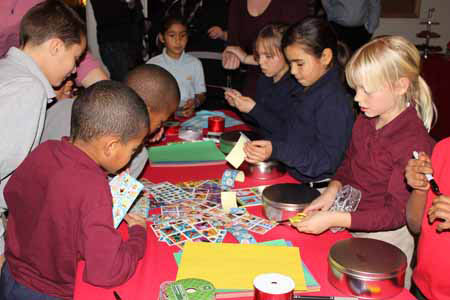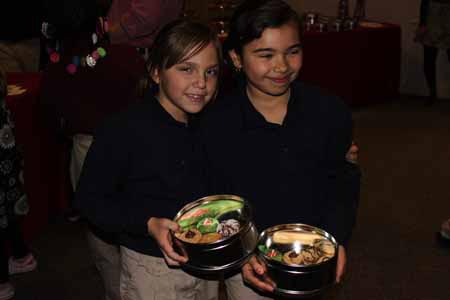 After saying goodbye to the kids and houseparents, we took a ride through Hershey Sweet Lights. It reminded me of Austin's trail of lights, but much, much, longer and you have to drive through it rather than walk.
We were exhausted, went back to the cottages and went to bed.
Next morning we met for breakfast in Hotel Hershey's Circular Dining Room. As a businessman traveling alone, Milton Hershey didn't enjoy being seated at tables near the kitchen or back. His Circular Dining Room was created so that everyone would have a good view.
Coming home, all I could think about was going back with the family and I've been playing around on Hershey's little trip planner which is actually kind of neat. And while we plan on coming back and going to the famous Hershey Park during warm weather, there was something rather magical about being in the town at Christmas time.  Maybe next year?