If you like recipe contests that require creativity and innovation rather than on-line voting, Lucky Leaf's Made With Love Recipe Contest is worth a look. The grand prize $4,000 prize and two runners up will receive $500.  Plus, all three finalists win a trip to the Better Homes & Gardens Test Kitchen for the final round of judging.  To enter, just incorporate Lucky Leaf into your own, new, unpublished recipe.
All the rules are on Lucky Leaf's page, but the key things to remember are as follows:
* Use at least one full 21-ounce can of Lucky Leaf Pie Filling.
* Have a one-hour time limit from start to finish
* Be original and created by entrant, and not have won any prize or award.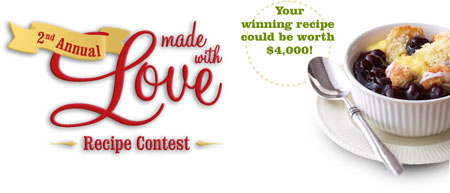 Last year's winner was Gloria Herdman's Blueberry Pot-a-Cakes which are ready to eat in less than an hour, call for very few ingredients, and use of pudding mix for convenience and flavor. Since this contest is a test of resourcefulness rather than how great a scratch baker you are (even if you are!), it looks like incorporating baking mixes, cake mixes, etc. will help.  Not that you have to, but round one is judged on the basis of Originality (25%), Taste (25%), Appearance (25%), and Ease of Baking/Cooking (25%).
If you like to print coupons from the Internet, Lucky Leaf has a $1.00 of coupon to help you get started.
Good luck!
By the way, here's another fun thing you can do with Lucky Leaf — use it as a filling for sugar cookies in Lucky Stars Sugar Cookies.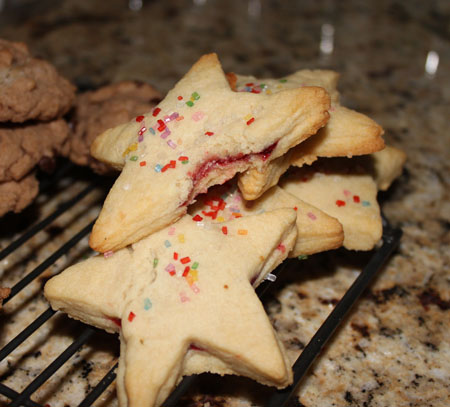 And one other. This bread sounds tasty and seems like a good example of the type of thing that might win a contest. It calls for baking mix for convenience, a full can of Lucky Leaf (plus some of their applesauce), and can be made from start to finish in one hour not counting the cooling time. I may try this one if I can get my hands on some baking mix.
Apple Streusel Bread from Lucky Leaf

2 1/2 cups packaged baking mix
1/2 cup flour
2 teaspoons apple pie spice
4 eggs, beaten
1 (21-oz.) can LUCKY LEAF Apple Pie Filling
1 cup LUCKY LEAF Apple Sauce
3/4 cup packed brown sugar (divided)
2/3 cup cooking oil
1/2 cup chopped walnuts (optional)

Preheat oven to 350°F. Grease and flour two 8x4x2-inch loaf pans. In a large bowl combine baking mix, flour, and apple pie spice. In another large bowl combine eggs, apple pie filling, apple sauce, 1/2 cup of the brown sugar, and oil. Add to flour mixture. Stir just until moistened. Divide batter evenly between prepared pans. Top each loaf with remaining brown sugar and walnuts (if using). Bake for 55 to 60 minutes or until a toothpick inserted in the center comes out clean. Cool in pans on wire rack for 10 minutes. Remove from pans and cool completely on wire rack. Wrap and store overnight for easier slicing. Makes 2 loaves

Servings: 32