I didn't bake today, but there's a good reason. I'm in New York City! This was an unexpected, last minute trip courtesy of I Can't Believe it's Not Butter who invited a group of bloggers to attend the launch party introducing their new celebrity spokesperson. They wouldn't tell us who it was until this morning, but we had a lot of fun guessing — Justin Bieber? Kim Kardashian? Betty White? Turns out the new commercials will star Kim Cattrall from Sex in the City, who in my opinion will be an excellent face for the product. As far as I know, she's not doing any dancing or singing, but she finished filming some commercials in Argentina that look pretty funny.
Here's a group photo of the bloggers. I'll post more photos later.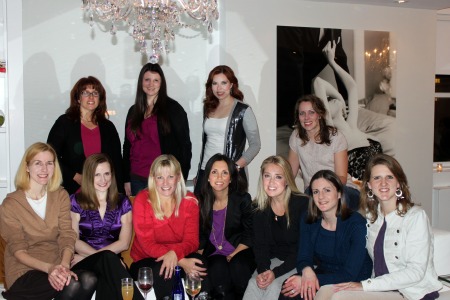 Meanwhile, there was another treat in store. Alex Guarnaschelli, chef at NYC's "Butter" restaurant and star of the show Alex's Day Off was helping with the launch. The party was held this morning at Butter (which they renamed "I Can't Believe it's Not Butter" for the morning) and Alex cooked a fantastic brunch using the product. The best thing on the menu were the buttery biscuits, which I'm going to try as soon as I get the recipe. She also made quiche, shrimp and butter cookies, then told us how much fun she had experimenting with the spread. She was genuinely surprised at how well it worked and while I don't see her changing the name of the restaurant permanently and making all the dishes with it, I think she might use it in her home cooking. She's mom to a 3 1/2 year old and is always watching out for nutrition.
Alex also told a funny story about her own mother, a cookbook editor who worked on books such as The Cake Bible. Alex's mother would go to great lengths to explain where ingredients came from, would know the history of everything she served and would seek out the best bread….then toast it and spray it with I Can't Believe it's Not Butter spray. It kind of reminded me of what goes on at our house. I make big batches of cookies with real butter, then steam a pile of vegetables and serve them to the family with a sprits of butter spray. It's all about balance, right?
Anyhow, I'm not the new spokesman for the product, but I appreciated being invited to the event and no doubt it has made me more interested in using the product. After having my cholesterol checked last week (it was fine, but it was scary waiting for the results since I hadn't been tested in years) I'm trying to cut saturated fat here and there and every little bit helps. I also stand by what I said earlier about the little kick of butter flavoring from the spread adding extra buttery flavor to things that already pair well with butter. I think I like cornbread made with spread better than with real butter.
I'll tell you more about it when I get home and have access to my real computer. It was a fun trip, but I miss being in the kitchen baking.
Related posts: