I'm on vacation, but couldn't resist posting a few photos from Seattle.  We just got here and it's SO pretty.   Just like this Wall of Gum.
Yup, you read that right.  It's the famous Wall of Gum in Pike Place Market.   It was gross but interesting. Fuzz made a contribution.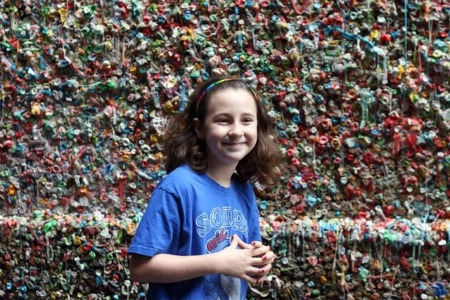 And here's another picture from one of the highlights of our day, a visit to Cakespy. Jessie is an artist and cookie afficionado who has her own little shop with gifts, jewelry, t-shirts and other things with Jessie's signature happy cupcakes, robots and unicorns. I'll post a few more photos when I get back on a regular computer, but I can tell you we had fun and that her new cookbook (I got to see her advance copy at the shop) is totally cute and has some really fun recipes.