Tonight's the Big Night!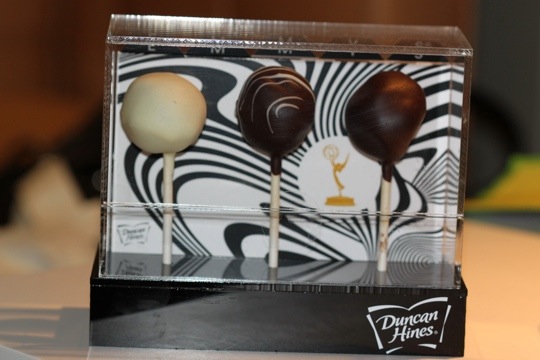 But the Emmy Award festivities start early. Fans in the stands and sponsors such as Duncan Hines start filling the bleachers around 11:00 AM PST. That's where I'll be all day, so expect a few photos and updates. I'm sure my new best friends, Elizabeth Moss from Mad Men and Guy Pearce from Mildred Pearce will be looking for me as they head down the red carpet.
You know, up until this weekend I didn't realize how much TV I watched but apparently I watch as much as more than everyone else. I'll be looking for my favorite stars from 30 Rock, Boardwalk Empire, Mildred Pierce, Dr. House!!, Mad Men, The Office, and Amy Poehler, who you might be surprised to know was my improv teacher many, many years ago at the IO Theatre in Chicago. Ah, memories. I'm going to yell that out and see if she remembers me.
If you want to keep track of this or dare me to yell out crazy things like "Yo, Amy!! Try the Cake Pops." log onto twitter around 3, follow Cookie_Madness and use the hashtag #Duncan Hines. If you'd rather just watch the madness anonymously without getting a Twitter account, just go to this URL:
http://twebevent.com/duncanhines
As for the cake pops in the photo above, you might be interested to know that attendees of the big Governor's Ball will receive a little cake ball gift set just like the one in the photo. I don't get to go to the ball, but I did get to eat a cake pop trio for breakfast.