You know that tapped out feeling that occurs after vacations? The one where you have lots of stories, but aren't quite ready to tell them because you're overwhelmed with laundry, mail and groceries? That's what I'm dealing with today after a quick and busy trip to New York. The reason we went was to drive Fuzz up to camp in the Catskills. That in itself was an adventure, but in this post I'm going to focus on some highlights from New York City, one of which was this pastry from the Dominique Ansel Bakery in Soho.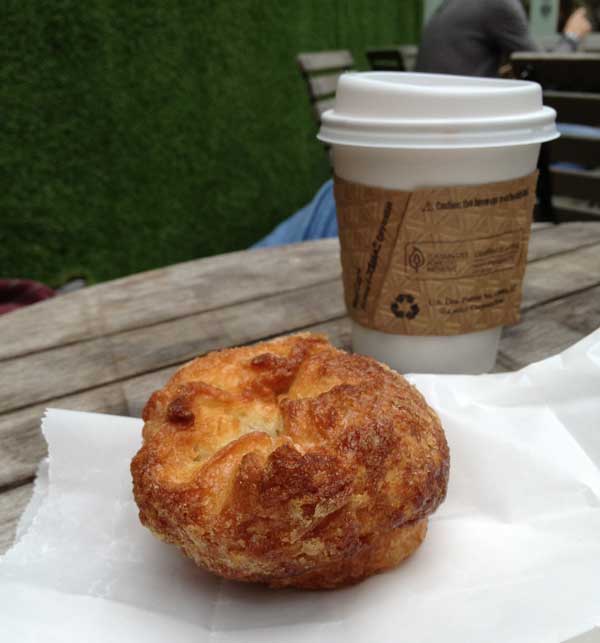 A friend told me I had to try it, so seeking it out (along with finding a raincoat to ship to Fuzz. We Austinites had forgotten about this liquid substance called rain) was one of the little missions we undertook while walking around New York. Not that one has to have a mission, but our favorite way to play tourist is to stumble upon lots of new things while searching for something else.  A long time ago that "something else" was Levain Bakery.  On our last trip it was one of those waving cats (Maneki-neko), and this time it was the raincoat.
So back to the pastry. It's called the DKA, which are Dominque Ansel's initials. It's shaped like a muffin but has the texture of a flaky croissant with a crisp shell and a buttery, cinnamon flavor. The fact that the bakery served outstanding coffee and had a little garden where you could relax after miles and miles of walking was a bonus.
Onto our next big discovery, which was Bonnie Slotnick's shop.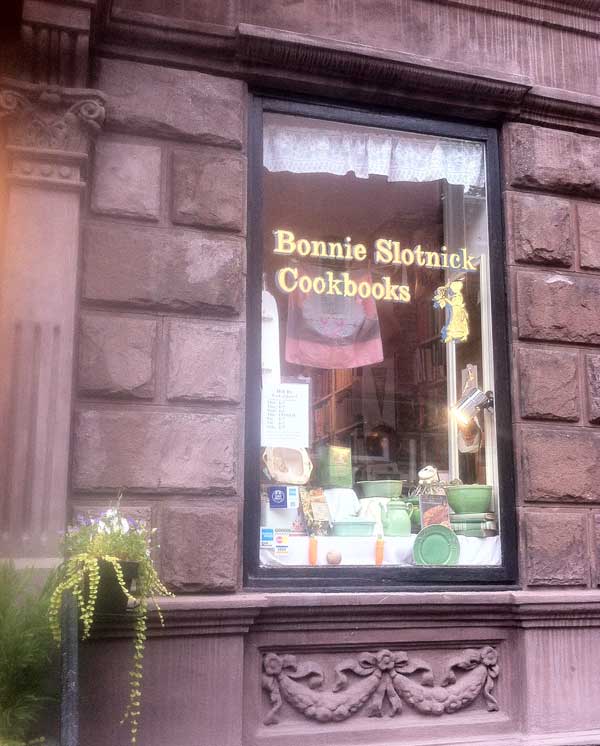 Bonnie Slotnick Cookbooks is a tiny store on West 10th street packed floor to ceiling with every kind of cookbook imaginable. I didn't know it existed until my friend Linda from upstate mentioned she'd recently sold some of her cookbooks there. From vintage to modern, the nice thing about this collection is that it has been curated by Bonnie, so you won't wind up with any duds. I bought a couple that I'd been checking out at the library over and over, plus an old cake book that Bonnie recommended. I can't wait to break it in this week! Maybe for Father's Day? We'll see. Todd wants one of those chocolate cookie icebox cakes, though.
Another discovery — okay, not so new to me but perhaps new to you. The ASSCAT show at Upright Citizens Brigade Theater. This is improv comedy at its best, and by "best" I mean you are in a tiny theater with the city's top talent. The cast revolves, so you never know who might be performing, but our team included cast members from The Colbert Report, The Office and this actress you might have heard of named Amy Poehler. We were lucky Amy was there, but even on nights when she's not, the shows are excellent, so just go. But be sure to buy a ticket for the 7:30 Sunday show unless you like camping out in line for 4 hours for the free 9:30 show. I, personally, am way too old for that. I actually felt too old to stand in line to even pick up the tickets for our 7:30 show, but once we got in the theater, the mean age of the audience spiked, proving Amy's point that the earlier crowd is more mature and probably better educated. Just kidding, but don't let the long line deter you. Some people are just addicted to fly-by-the-seat-of-their-pants scheduling and others probably enjoy the camping out on the street experience. Ick.  If you get a ticket early, this won't be you.  And all the seats are good because the theater is (as mentioned) really small.
Gee, I feel like I should have more bakery recommendations for you since this is a cookie blog, but the truth is we kept going back to places we love.  We went to DA twice, visited Payard again for their sandwiches, and found ourselves at City Bakery twice.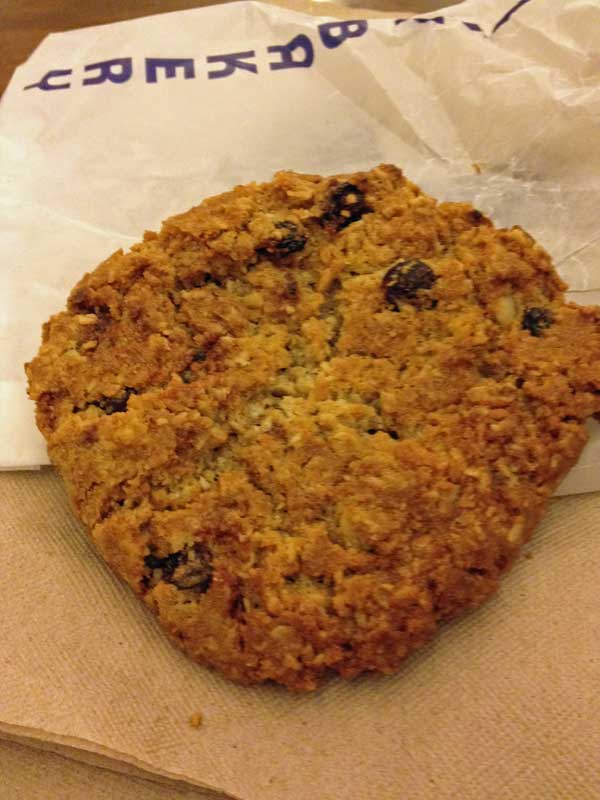 I like City Bakery more than ever. The selection isn't vast, but their cookies are excellent and they serve very good coffee. I revisited the chocolate chunk cookie and finally tried the oatmeal cookie which was thick, crumbly, and buttery tasting without being greasy. Guess what I'll be cloning at home this week? My only complaint is that City Bakery still doesn't sell brownies. What's up with that? Maybe they are secretly devising a recipe for the most incredible brownie in the city. Who knows? But it occurred to me that I never come across a lot of good brownies when I go to New York. I think I've just discovered our next mission.
But that's it for now. We only hit three bakeries. And unlike the last time when we were really into macarons, none of the macarons impressed us. Maybe we're tired of macarons or maybe our standards are now super high having tried the ones from Labouit Cafe here in Austin. I'm not really sure.
We missed Momofuko Bakery, didn't hit Bouchon, no Jacques Torres and no Buttercup or Billy's. We skipped all the bakeries in Chelsea Market because I feel like I've tried them all, skipped Alice's Tea Cup because Fuzz would kill me us if we went without her, and we never made it uptown to Levain. We did pop into Dunkin Donuts quite a bit while on the road, though. I'm pretty sure Todd misses their coffee more than just about anything else. Okay, not really. But he drank a lot of it.
And that sums it up. Now I'm back and as usual, ready to bake something good. Unfortunately there aren't any ingredients in the house.