If you need a few ideas for holiday cookies, here are (a little more than) 26! I came up with this list yesterday while feeling overwhelmed by how many great cookie recipes there are. It's hard to pick the best, so for this list I focused on small to medium size cookies that are easy to pack in tins. This means no brownies, lemon squares, or gooey bars. The cookies on the list are meant to be ideal for cookie exchanges, so there's a combo of the usual suspects and more interesting cookies.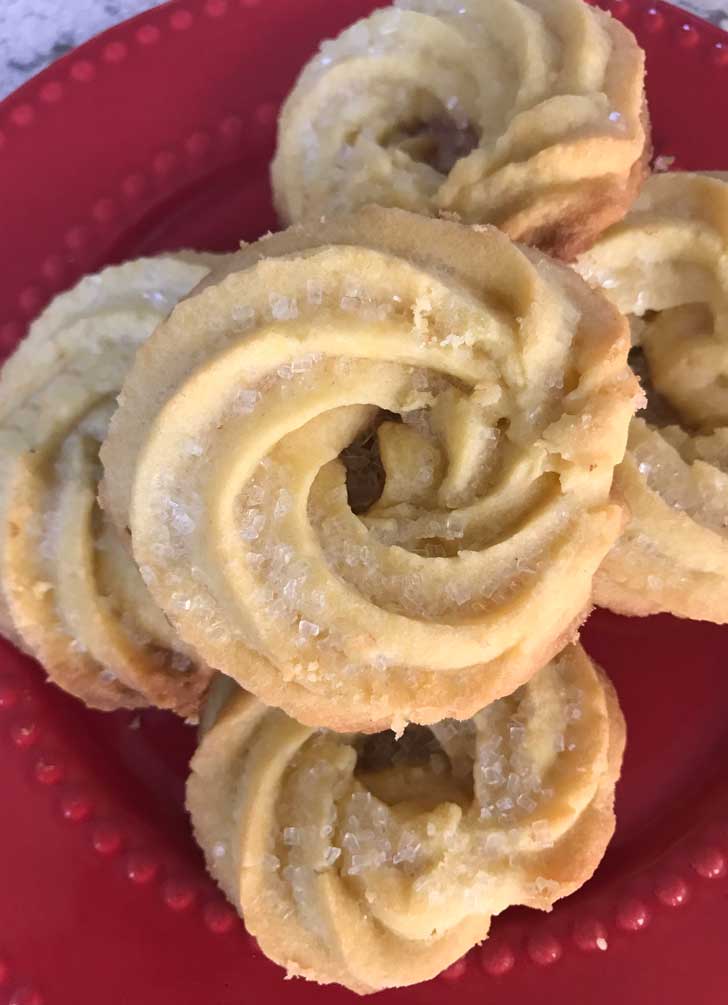 I took a few a lot of liberties with the naming of some cookies to keep the list alphabetical and to fit in some choice picks. For instance, Eva Longoria's cookies are really Pan de Polvo and Ronna Farley's cookies are Choco Peanut Butter Cups. There are a lot of good cookies that begin with the letters P and C. I wish I could say the same for cookies that begin with K, Q, X and Y. I included a recipe for Kourabiedes that I haven't tried yet, Quinoa cookies because they are interesting and begin with Q, X cookies from Lisa, who makes every food look beautiful and a link to a recipe for Zimsterne, which are German cookies. For Y, I was wishing I had a friend named Yolanda but it didn't work out that way.
Holiday Cookies A to Z List
Alfajores -- Beautiful and delicious cookies I don't make often enough. It's delightful to see Alfajores on a tray or in a tin, even though they might be just a bit messier than some others. But not really. They hold together pretty well for homemade sandwich cookies. If you have an Instant Pot, you can use it to make the dulce de leche.
Butter Cookies -- The trusty Chicago Public Schools inspired butter cookie recipe. Everyone loves these cookies, especially my Chicago friends.
Chocolate Sparkle Cookies -- An old recipe from Canadian pastry chef Thomas Haas. Great for cookie tins because they are fudgy and rich, yet not messy.
Eva Longoria's Cookies -- A very flavorful Pan de Polvo recipe.
Four Seasons Chocolate Ginger -- Chocolate combined with ginger. The recipe was shared by a friend who got the recipe from a former Four Seasons pastry chef.
Gingerbread Biscotti -- The recipe from Fine Cooking. It makes a very hard and crunchy biscotti.
Hal's Favorite Chocolate Chip -- Chocolate Chip disguised as holiday cookies. The Homemade Hob Nobs are also good.
Iced Anise Cookies -- Very holidayish cookies for licorice and anise lovers.
Jelly and Peanut Butter Cookies -- The jelly makes the cookie. Even if you don't love jelly, use it anyway. My favorite ever cookie from Jennifer of Bake or Break's book.
Kourabiedes -- I plan on making these, but need to get Ouzo. The last time I bought it I used 2 tablespoons, kept it around for 5 years and dumped it out before a move. But I don't see any moves in the future. While looking for K cookies, I also found Ka'ak Bi Tamer, Lebanese cookies with an intriguing spice called mahlab, which is supposed to taste like cherry. Want to try! And then there's always And then there's always Kolackzki. I've made it before but don't have a posted recipe.
Larry's Sugar Cookies -- An old recipe attributed to Larry's House of Cakes. Get the sprinkles, call the kids, nobody doesn't like sugar cookies.
Maple Pecan Snowballs -- Originally from Chicago Magazine, this is a fancy maple-y spin on Snowballs. For Hanukkah, Marisa's Rainbow Cookies which should really be listed under R or V for Venetians.
Noodle Cookies -- Another personal favorite. They are also known as Chow Mein Noodle Cookies or Firecracker Cookies, but I had too many C and F cookies.
Oreo Truffles -- Always a fun thing to find in a cookie tin. The Golden Oreos are good for truffles as well.
Pecan Butterscotch Cookies -- For butterscotch lovers, these are crinkly, crunchy cookies with lots of warm flavors.
Quinoa Chocolate Chip -- Begins with Q. Plus maybe there's a health nut in your group? These are oh-so-Christmas-y. (?) Q.
Ronna Farley's Peanut Butter Choco's -- Here's another "delicious convergence of convenience products". (Almost) everyone loves Choco-Peanut Butter Cups. Rugelach is a good Hanukkah cookie, but I'm linking to another blog because my Rugelach is never pretty. Someday I'll get it right. This comments in this old post have some good Rugelach recipe suggestions.
Sue's Toffee Crunch Cookies -- Similar to Minnesota Munchers, Sue's Toffee Cookies are from one of her homemade childhood cookbooks.
Tex Mex Chocolate Cookies -- Chocolate combined with chiles. A long-time old favorite from a Christmas cookie contest.
Ultimate Corn Flake Cookies -- Not the most holiday-ish, but a good choice for a cookie tin.
Vermont White Chocolate Maple -- A winner from Erin's book, 101 Best Cookies on the Planet.
White Chip Double Chocolate -- A tribute to Subway Double Chocolate. Throw in some red and green sprinkles and you've got holiday cookies. You could also add mint chips and keep the cookies away from other cookies. Side Note: If you ever come across Subway's Caramel Apple Cookies you have to try them.
X Cookies -- Lisa made these. I have not. I feel like I'd really mess them up.
Yickerdoodles, Yertle the Turtle Cookies and Your Favorite Leftover Red Wine Chocolate Cherry Cookies. And then there are York Peppermint Patty Cookies, but beware putting mint near any other cookies. These guys need their own separate little sack.
Zimsterne -- Nutty German cookies usually shaped like stars. I can't say I've ever made these, but they are on my list of new cookies to try. Cheat Z Cookie: -- Zesta Saltine Cracker Candy.