Update:  Apparently there was an error in the original Rob's Radical Chocolate Chip cookies recipe. The original recipe had way too much sugar, when the correct amount is actually ½ cup.  Food Network has since fixed the problem and the recipe works.
Ten minutes before heading out the door for an Easter egg hunt, I whipped up a batch of Rob's Radical Chocolate Chip cookie dough. I was pretty excited about it because the technique and ingredients were unusual. When we returned from the hunt, I baked up a dozen cookies. They were absolutely gorgeous – a little on the pale side, but handsome nonetheless.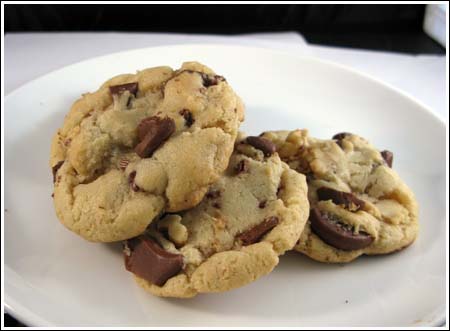 But I threw them out. They were too sweet -- off the charts sweet. I tried to like them and kept taking little bites just to make sure I was being a fair judge, but even with the walnuts (which I thought might tame the sugar) they weren't right.
So something's up. Rob calls for "Baker's Sugar" and since he's from California, where C&H is big, I'm guessing he used theirs. We don't have C&H Baker's Sugar in South Texas and Val, who lives in Connecticut, didn't have any either. You'd think superfine sugar, which is what we used, would have been a good substitute since according to the boxes, both have the same weight per teaspoon. But they must not have the same weight per cup due to rounding issues.
So based on the results I got, I think C&H "Baker's Sugar" must weigh less per cup than Superfine sugar or granulated sugar (7 ounces). It should be interesting to watch the reviews roll in. Meanwhile, I'm going to try making these with less sugar.